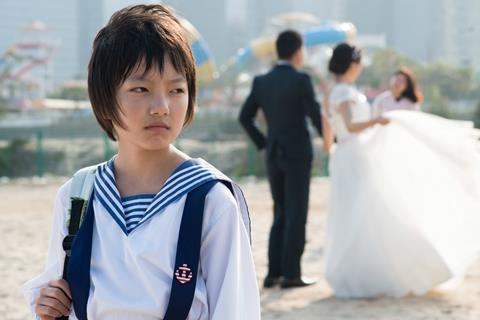 Angels Wear White is one of the buzz titles of the Venice Film Festival.

Following her directorial debut Trap Street, which premiered in Venice Critics' Week in 2013, Qu is China's first female director to gain a Venice Competition berth since Liu Miaomiao with An Innocent Babbler in 1993.
The filmmaker and producer is also this year's only female director in main competition.
Angels Wear White focuses on a teenage girl who is the only witness to a crime but says nothing for fear of losing her job. The film received support from France's Centre National du Cinema and Région Ile-de-France and Switzerland's Vision Sud Est.
It will be worth keeping an eye on the film's reception in China where its social critique could ruffle authority feathers.
Qu is a key figure in Chinese independent cinema, having previously produced Night Train and Black Coal, Thin Ice. The latter won Berlin's Golden Bear and best actor awards in 2014.
Wild Bunch handles sales.
Screen: What was the inspiration for making Angels Wear White?
Vivian Qu: Smartphones and social media have changed our ways of receiving the news. Daily pushes of news stories—pictures and videos—flooded my cellphone. Often, the stories that involved children—whether they were victims of abuse, or participants of a crime—would stick to my mind.
I felt I was so close to the happenings and yet, aside from perhaps forwarding a story to a friend from time to time and express my anger or sorrow, there was not much that I could do. The next day, a new set of stories would replace the old ones, and life would go on. This troubled me. I never so consciously realized my role as a bystander, a forgetful, even an indifferent one. As a viewer of those stories, are we not a consumer at the same time? What is my relationship with the children in the pictures and videos? What if I come face to face with them one day? This was how it all started.
Screen: What has been the biggest challenge while making the film?
Vivian Qu: The two main characters of my film were young teens and the complexity of each role is rather uncommon for child actors in Chinese cinema. This posed a big challenge not only in finding the right girls but also in training them to bring life and credibility to the roles.
We engaged several casting directors and agencies months before the shooting started, and tried out thousands of girls—with and without acting experience.
The challenges in training the two girls were quite different as well: for motel clerk Mia (played by Wen Qi who had some acting experience in TV), the training was mostly in physicality and movements, and to live a life like a working girl; whereas for the traumatized schoolgirl Wen (played by the 11-year-old Zhou Meijun who had no acting experience at all), the training was more on a scene by scene basis, using various methods to inspire her to borrow from her own experience and bring out the desired emotional responses. In real life she's a happy child from a happy family, so it wasn't easy at all in the beginning. But I think she was made for cinema, as each time her performance in front of the camera was better than those during rehearsal. She surprised us with many extremely moving performances.
Screen: The films you have produced and directed often feature a prominent female presence but the female characters are also often maltreated, lonely or marginalized by society. Is this something you notice in China in particular?
Vivian Qu: There would be no film if a character is not in some kind of predicament or difficult situation, be it men or women. The predicament or situation can be Chinese or universal. However, I'm more interested in how my characters can break out from the set of choices that are allowed them. This is especially true for women as their choices tend to be more limited and they often need to make more efforts to find a solution.
Screen: You are the only woman director with a film in Venice's competition. Are festivals doing enough to promote female voices?
Vivian Qu: Festivals are only the last link on the chain in the film industry. It is a tough balance between maintaining the quality of the selection and promoting minority voices. It won't help if festival selections fall into a quota system. I think everyone should go to the root of the problem: are there enough female filmmakers making films?
Screen: Will you continue to direct films in China or will you look to make your next film abroad?
Vivian Qu: I'll do films that interest me. Country or language isn't a barrier. I am already considering cross-cultural projects but also have many Chinese stories to tell.
Screen: You have championed the films of emerging Chinese directors. Do you think the market for those films is growing in China and internationally?
Vivian Qu: The Chinese film market has had considerable growth in the last few years. While popular entertainment is still the main stream the audience is beginning to demand high quality, artistically challenging films. I think diversity is inevitable.
Screen: What will you produce next?
Vivian Qu: I'll focus more on directing for now, but if I see a good project by a promising young director, I will help him/her like I did for other directors in the past