Camera d'Or winner Divines gets a worldwide release on Netflix in November.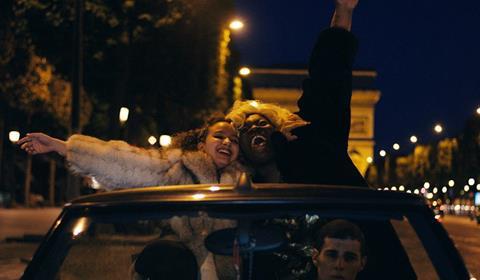 French director Houda Benyamina's gritty drama Divines goes on world-wide release via streaming giant Netflix this November, just six months after it clinched the prestigious Camera d'Or for best first feature at Cannes. The timely portrait of a teenager desperate to rise above her disadvantaged reality in a tough outer-Paris neighbourhood was cited by a number of critics as one of the highlights of the festival following its premiere in Directors' Fortnight.
The win puts Benyamina in illustrious company — Jafar Panahi (The White Balloon), Mira Nair (Salaam Bombay!), Jim Jarmusch (Stranger Than Paradise) and Benh Zeitlin (Beasts Of The Southern Wild) are all previous winners of the Camera d'Or. In an unprecedented move for a picture that had won one of the top prizes at the world's biggest and most traditional film festival, however, the terms of the Netflix deal exclude a theatrical release anywhere except the production's home territory of France.
Divines is among a dozen or so high-profile independent features — many by first-time directors — to be picked up by Netflix in the past 12 months. Recent international feature acquisitions include Lebanese Oscar submission Very Big Shot, the first Emirati thriller Rattle The Cage (Zinzana), Kleber Mendonca Filho's Aquarius, Anurag Kashyap's Raman Raghav 2.0 and Chanya Button's Burn Burn Burn.
US features backed by Netflix include David Michod's War Machine and upcoming thriller Wheelman. Maisie Williams drama iBoy is the first UK film fully financed by the SVoD service, which will spend $6bn on content in 2017. This is part of a drive to improve the image of its cinema offering, which has always looked weak in comparison to its bouquet of Original and acquired TV dramas.
Netflix acquisition executive Funa Maduka first scouted Divines at the second edition of Qumra, the annual talent development event of Qatar's Doha Film Institute. "She saw a 20-minute rough cut and was enthusiastic immediately," says the film's producer Marc-Benoit Créancier. "TIFF's Cameron Bailey loved it, too. On the other hand, the few Europeans who took the time to see it were lukewarm."
The company approached Divines' sales agent Films Boutique in the early days of Cannes, offering a lucrative deal for SVoD rights. After the Camera d'Or win, it upped the offer to include all rights and the labelling of Divines as a prestigious Netflix Original. "They made an even bigger and better offer that we could not refuse," says Créancier. "We decided to play the game and embrace this new adventure in the knowledge that Netflix was going to position it differently as an Original.
"It made sense on a number of levels," he continues. "They believed in the film early on and were the first at the table, with the best offer. Traditional theatrical deals would never have matched the sum that they were offering."
Mixed feelings
Speaking to Screen during October's BFI London Film Festival, where the film had its first — and, perhaps, last — theatrical screening in the UK, Benyamina admits she initially had mixed feelings about the deal. "I didn't understand its full implications but when the penny dropped, I'll admit I was disappointed that the film was destined not to show in cinemas," she says. But Benyamina has since revised this view following the film's theatrical run in France, where it has drawn a respectable 400,000 admissions since its release on August 31 through distributor Diaphana Films.
For Benyamina, that is not enough. She expresses frustration that Divines did not make it into out-of-town cinemas and was pulled quickly if it failed to draw spectators in the first few days. "If the film only ever reaches 400,000 people, I'll be disappointed but I am someone who always wants more," she explains. "If you haven't got the punch of a blockbuster, it can be tough for a film like mine. I've got friends whose films have been pulled after a matter days. There's no time to build word-of-mouth."
Benyamina hopes the Netflix release will help Divines connect with the younger audiences it missed during the theatrical run. Créancier says Netflix is also mulling a Golden Globes and Bafta push. Not all of Netflix's feature acquisitions receive this special treatment. Off-the-record tales abound of producers and directors left pondering the fate of their film after a deal with the streaming giant. Viewing figures are never revealed and some titles slip onto the platform with little fanfare — and likely very little audience.
Divines, meanwhile, goes global on November 18. It is among around 20 Netflix Original titles premiering on the platform in November. It remains to be seen whether Benyamina and Créancier's hopes are fulfilled.