SCREEN SUBSCRIBERS: The Mexican director talks about his two-hander Almacenados (Warehoused), an existential drama about the relationship between two warehouse employees that screens in the México Primero section of the Los Cabos International Film festival this weekend.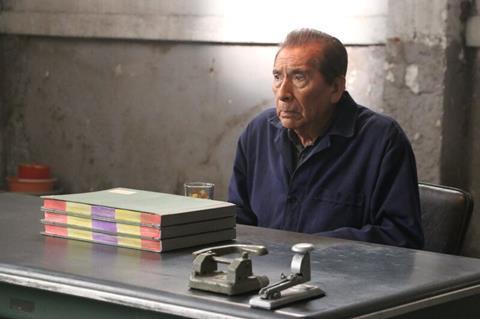 Celebrated Mexican actor José Carlos Ruiz stars opposite Hoze Meléndez as Mr Lino, an elderly employee at a boat mast warehouse who has one week to train a youngster, Nin, before he retires after 39 years of devoted service.
This is the second collaboration between Kababie and multiple Ariel Award winner Ruiz after the 2014 comedy-drama One For The Road (En El Ultimo Trago). Kababie's first film was the 2010 tragicomedy Goodbye Cruel World (Adiós Mundo Cruel).
The sub-$500,000 Almacenados is an Avanti Pictures, Zensky Cine and Producciones Chonchas production. Zagha produced with Elsa Reyes and Yossy Zagha. David Desola wrote the screenplay.
What is the film saying?
Jack Zagha Zababie: It's a film about wasting time. We lose time when we don't realise our talents, our potential. Each of us can make a difference and we have to realise what we can do and give the best of ourselves. The schools should support this film so this can change a generation of young people.
Was it easy to shoot such an intimate film?
Kababie: In [my previous films] I have used lots of elements – lots of people, a lion, animals, shooting in many different locations. So I wanted to do something with fewer characters in a single location. But actually it was quite complicated. We had to search a long time for the right location and finally we found this warehouse.
Did you only shoot in the warehouse? How long was the shoot?
Kababie: It took four weeks in one location. We only left it to shoot in the subway.
Ruiz: There's a lot of space in the film but it's vivid, it's alive.
How did you get the subway to look so deserted?
Kababie: We filmed the subway scenes on a Sunday. We wanted to shoot at a time when it was getting emptier and emptier, so it looked like he was going to a place that was far away.
What goes through Mr Lino's mind as he trains this young man to do the job he has done so meticulously for nearly 40 years?
Kababie: In this story you see the point of view of Lino and it must be very different to realise that you are going out and you don't understand the changes. But the message of this film is that while there's time there's life. They have been competing with each other and there are all these tensions, but then their friendship develops and you see hope. Jose Carlos got to be 81 years old while we were shooting this film so it's never too late.
José Carlos Ruiz: I have to say I'm not 81. I'm 80 years old and 11 months! Retiring is kind of beginning to die because you work 30, 40, 50 years in your job and the next day you have nothing. I had an uncle who died one day after he retired. All my life I have worked in TV, theatre and cinema, but my biggest reward is to keep getting work.
Tell us about the ants in one of the scenes. Were they real?
Kababie: We were going to use real ants and we talked to a specialist about this and what to do. But the next day thee were no ants on set, so we had to general them digitally.
Is there a story behind the name of the young guy, Nin?
Kababie: It's not a normal name. There's no reason for that name. It's an unusual name. People ask about it and I like that.