CHINA BOX OFFICE: Jurassic World reigned over the China box office for the third week straight last week, passing the $200m benchmark, and holding off local opener Hollywood Adventures, produced by Justin Lin.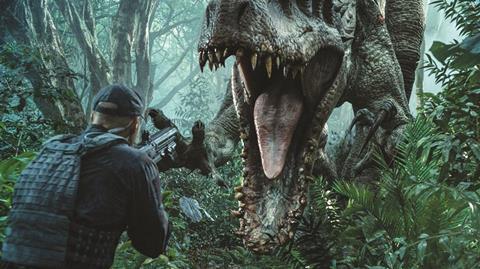 The Universal title grossed $37.96m in the week June 22-28, according to EntGroup figures, giving it a cumulative gross of $206.29m after 19 days.
Local action title SPL 2: A Time For Consequences held on at second position in its first full week, grossing $31.66m for a cume of $75.32m after 11 days.
Hollywood Adventures came in third with $27.63m over its opening three days, which was less than expected for a heavily-promoted title, produced by Lin, and starring Vicky Zhao Wei, Huang Xiaoming and Tong Dawei.
Lionsgate's Insurgent took fourth position in its first full week with $6.91m for a cume of $16.11m after 10 days. It was followed by Warner Bros/New Line's San Andreas, which took a further $6.82m for a cume of $101.26m after 27 days.
Three local productions took the next three positions on the chart: The Ark Of Mr.Chow grossed $3.30m for a cume of $7.84m after 10 days; Love Me Love My Dog took $1.75m for a cume of $3.74m also after 10 days; while animation The Three Pigs And The Lamp grossed $1.98m in its opening two days.
Japanese animation Stand by Me Doraemon held on at ninth position with a weekly take of $940,000, giving it a cume of $86.92m after 32 days.
John Carney's Begin Again, which was jointly acquired by Beijing Galloping Horse and Ivanhoe Pictures, limped in at tenth position in its opening weekend, grossing $700,000 in three days.