Dir: Matthew Vaughn. UK. 2014. 129mins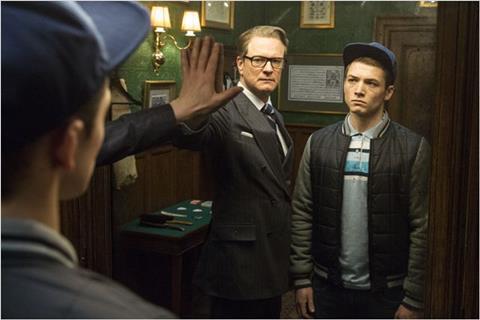 Harking back to the colourful gentleman spy excesses of the Derek Flint or Matt Helm films, Matthew Vaughn's violently breezy adaptation of the cult graphic novel is a delicious blend of streetwise savvy and old-fashioned espionage motifs. The relish for a little bit of ultra-violence pushes it close to similar territory of Vaughn's Kick-Ass film (and a more adult classification that will take it away from a younger audience who would be keen to embrace its comic-book playfulness) but good word-of-mouth and a lack of similar material in the marketplace could make it a strong early 2015 performer.
Colin Firth is the epitome of dapper action cool with his bespoke suit barely ruffled during some seriously intense action scenes.
While poking gentle fun at the new more serious toned Bond franchise and offering up some delightful homages to the class-orientated themes of the classic British spy genre, Kingsman: The Secret Service is packed full of knowingly impressive performances. The film opens in late January in the UK before a February US release.
Based on Mark Miller and Dave Gibbons' 2012 comic book series the film relishes the more outrageous excesses of the genre – the gadgets, action and bad-guy base – while also focussing as much on fashion as the fireworks. As Samuel L Jackson's cheerfully lisping villain comments: "Give me a far-fetched diabolical plot"…and Kingsman is more than happy to deliver.
In fact the story favours links much further back than Bond, Harry Palmer or Bulldog Drummond, with the debonair and suavely heroic Kingsman gentleman spies assuming names of knights of the round table as they place themselves as a freelance espionage organisation working with seemingly vast resources and at the highest level.
Harry Hart (aka Galahad), played with consummate ease by Colin Firth, looks to recruit street smart Gary 'Eggsy' Unwin (up-and-coming young British talent Taron Egerton), the son of the man who saved his life years before, as a Kingsman. Council estate boy Eggsy (though naturally he is a naturally smart former teen gymnast who left the Marines to look after his mum) has to go through a tough selection process alongside a bunch of clichéd upper-class snobs), aware that his relationship with Harry is of the My Fair Lady variety (as he points out when Harry tries to refer to their relationship in film terms to movies such as Nikita).
The series of tests and challenges – they are rivals to replace fallen Kingsman Lancelot (Jack Davenport), who dies in a wonderfully violent early sequence as he tries to save a kidnapped scientist (played by a heavily made-up Mark Hamill – take up the film's central section, set against the dastardly plot by Valentine which involves mobile phone SIM cards which he can control to drive humanity into homicidal behaviour.
That old British gambit of class conflict is at the heart of the film (Harry is adamant that the classic Oxford style shoe takes precedence over the Brogue as he takes Eggsy to their secret Kingsman headquarters hidden at a Savile Row tailors in London) but it is played for laughs rather than resonance. Though running over two hours, the film is pretty pacy, packed with a series of nicely staged action scenes, favours smart and amusing dialogue (scripted by Vaughn and regular screenwriting partner Jane Goldman) over easy and corny spy gags.
Colin Firth is the epitome of dapper action cool with his bespoke suit barely ruffled during some seriously intense action scenes (he and his stuntman perform impressively), while Taron Egerton convinces as a young man seeking a father figure as he makes the transition from street kid to besuited hero. Samuel L Jackson's character is perhaps a bit overladen with quirks and idiosyncrasies (ranging from a phobia of blood to serving fast-food burgers at a plush dinner), but Algerian actress Sofia Boutella (from StreetDance 2) makes a great impact as his deadly sidekick/lover Gazelle, who sports razor-sharp CGI powerbocks in place of lower legs.
The lavish violence (especially the exploding heads and a bloody brawl in a church) and a rather heavy-handed Royalty/anal-sex joke (which is a sly twist on the old-time Bond films' pay-off final scenes that saw Bond having sex with the obligatory Bond girl) help push the film to the edge, but Kingsman: The Secret Service is so well served in terms of gags, action and style that it bodes well for another savvy spy franchise and even more so for the star potential of Taron Egerton.
Production companies: 20th Century Fox, Marv, Cloudy, TSG Entertainment
Distribution: 20th Century Fox
Producers: Matthew Vaughn, David Reid, Adam Bohling
Executive producers: Mark Millar, Dave Gibbons, Stephen Marks, Claudia Vaughn, Pierre Lagrange
Co-producer, Jane Goldman
Screenplay: Jane Goldman, Matthew Vaughn, based on the comicbook The Secret Service by Mark Millar, Dave Gibbons
Cinematography: George Richmond
Editors: Eddie Hamilton, Jon Harris
Production designer: Paul Kirby
Music: Henry Jackman, Matthew Margeson
Main cast: Colin Firth, Samuel L. Jackson, Mark Strong, Taron Egerton, Sophie Cookson, Jack Davenport, Mark Hamill, Sofia Boutella, Edward Holcroft, Jack Cutmore-Scott, Geoff Bell, Samantha Womack, Michael Caine