Dir/scr: Marc-Henri Wajnberg. Belgium-France. 2012. 85mins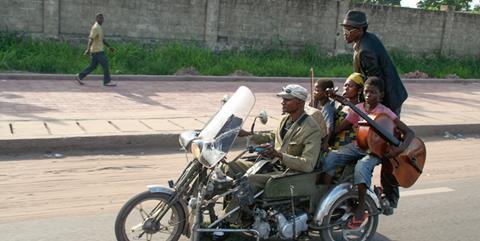 Weaving in and out between documentary and drama, Belgian director Marc-Henri Wajnberg's first feature for almost 20 years tells the sometimes horrifying, sometimes uplifting story of a group of street kids from Kinshasa in the Congo, cast out from their families after being suspected of harbouring evil demons, who find some kind of redemption through music.
Amidst the misery, it's music that brings relief when a flamboyant Congolese rapper called Bebson 'De la Rue' takes the kids in hand and gives some structure to their nascent musical talents.
The toughness and resilience of these abandoned youngsters is mirrored by the feistiness of a film crew that keeps shooting through police checks and bystander interference, in a series of near-documentary scenes that seem unscripted. In the end, though, Kinshasa Kids is most obviously a feel-good story in the long-running 'society outcasts form a band and achieve success' genre – and it's here that it doesn't quite deliver.
Tough to watch at times, at others self-consciously artsy in its repeated breaking of the fourth wall, Kinshasa Kids may struggle to find the sort of sensitive general audience it deserves. But more festival play is assured after the film's Venice Days, Toronto and New York autumn rollout, and targeted distribution via conscious-raising events and charities like War Child is one possible way to attract a wider public.
No slow starter, the film opens with a harrowing scene of terrified, crying kids, some of them still toddlers, being subjected to exorcism in a ritual involving chicken innards and dead lizards. 'Child witches are the root of all Kinshasa's problems", a mother fulminates – a widespread belief that is quantified in a closing caption. It seems that around 25,000 kids under the age of 18 live on the streets of the Democratic Republic of Congo's dirty, sprawling capital, many of them thrown out of their families after being suspected of being shegue, or sorcerers.
Shot with handheld verve, Kinshasa Kids follows a loose band of eight youngsters who hang out together and sleep on the rooftops of jerrybuilt shop and buildings.
They make a living out of odd jobs and petty theft; the girls are constantly at the risk of rape (one is played by Rachel Mwanza, who won a Silver Bear at this year's Berlinale for her role in War Witch – a film that was actually shot after Wajnberg discovered her on the street and cast her in Kinshasa Kids).
Police harassment is a constant threat, not least to the film crew, who are carted off for questioning at one point before being told that everything can be fixed if they hand over "a little envelope" (the kids too have to deal with the cops; they even have a scam whereby they're saved by the police from a mob lynching after being accused of theft – in return for most of the proceeds).
Amidst the misery, it's music that brings relief when a flamboyant Congolese rapper called Bebson 'De la Rue' takes the kids in hand and gives some structure to their nascent musical talents (one's a decent singer, another a mini Michael Jackson impersonator…). Not much is done though to make this plot-swing plausible: it's as if the film expects us to be so familiar with the 'musical redemption' genre that it doesn't need to make much of an effort to stand it up. Even the cameo appearance of Congolese musical superstar Papa Wemba seems to lack conviction, as if the director were afraid of asking him to act.
But the driving rap, reggae and Hi-life music does eventually take over and energise the lagging plot; and a scene where the kids wander into a cacophony of competing choirs before stumbling into a full orchestral performance of Mozart's Sanctus has a strange power, pregnant as it is with the promise of purification through music – shaded with a wry hint at Africa's colonial cultural legacy, and its enshrinement in the mindset of the continent's ruling classes.
Production companies: Wajnbrosse Productions, Inti Films, Crescendo Films
International sales: MK2, www.mk2pro.com
Producers: Marc-Henri Wajnberg, Serge Guez, Peter Krüger, Georges Abranches, Riva Kalimazi
Cinematography: Danny Elsen, Colin Houben
Editor: Marie-Helene Dozo
Music: Bebson "de la Rue" and the Trionyx, The Diable Aza Te
Main cast: Jose Mawanda, Rachel Mwanza, Emmanuel Fakoko, Bebson De la Rue, Gabi Bolenge, Gauthier Kiloko, Joel Eziegue, Mickael Fataki, Samy Molebe