Korea's leading film investor/distributor CJ Entertainment has signed a memorandum of understanding with Thailand's top exhibitor Major Cineplex Group to establish a joint venture for film production and investment.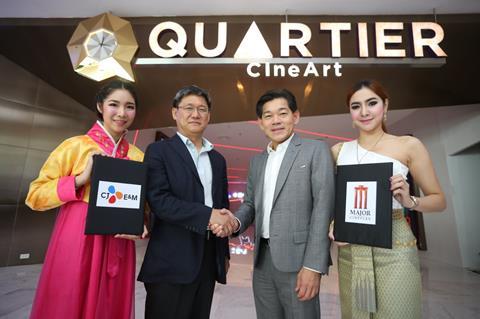 The joint venture will announce about 10 Korea-Thailand co-productions and local films over the next three years. CJ Entertainment plans to discover and nurture local filmmakers for this task.
CJ E&M, the media and content company of which CJ Entertainment is the main film division, announced the MOU on Sunday (May 31). CJ E&M CEO Sung-soo Kim signed the deal with Major Cineplex Group CEO Vicha Poolvaraluck at the Quartier Cineart in Bangkok in May 27.
CJ Entertainment also expects to use its planning and marketing know-how to maximize Major Cineplex Group's production and exhibition capabilities.
The Korean company reports it has sold and distributed about 290 Korean films in Thailand since 2000.
It is also set to release on June 4, Cha-Lui Reboot: Lost in Seoul - with co-investment in by Thai studio Transformation Films. Directed by Adirek "Uncle" Wattaleela, the musical comedy is about two young men, Tong and Pong, who come to Korea with dreams of becoming K-pop stars. The film features up-and-coming actors Nicky Nachat and Jessi Mekwattana in the main roles with Nichkhun, the Thai member of K-pop group 2PM.
"For CJ Entertainment, the Korean film market means our root, while the Chinese market represents the present, and the Southeast Asian market, the future. We highly value strong growth potential of the Southeast Asian market, and we aim to become Asia's number one studio through our One Source Multi Territory strategy," said Tae-Sung Jeong, head of CJ Entertainment.
CJ's One Source Multi Territory strategy refers to using a single original source and producing different content tailored to regional audiences. The company recently took the Korean box office hit Miss Granny and co-produced 20, Once Again! in China and is planning to release the Vietnamese version Sweet 20s as well.