Dir: Brad Silberling. US. 2009. 102 mins.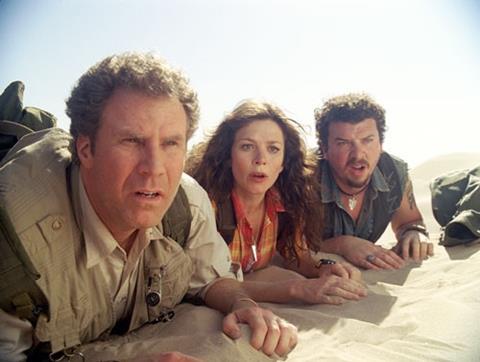 More rudely silly than funny, action-comedy Land of the Lost is staged with colour and a fair amount of energy, but not much in the way of inventiveness or surprise. A big screen adaptation of the mid-1970s time-travelling children's show of the same name, the movie is scant on plot but heavy on scatological humour, and over-reliant on star Will Ferrell's well-worn shtick.
This recalls last summer's Journey to the Center of the Earth, which rang up over $100 million domestically ($140m internationally) but had both 3-D presentation and a more family-friendly PG rating on its side. Ferrell's commercial track record has been very hit-and-miss domestically, while he has struggled internationally. Land of the Lost, rated PG-13 Stateside, is a retreat from the raunchiness of his last two R-rated comedies, one a box office bust (Semi-Pro;US$33m, international, $10m), and the other a $100 million hit (Step Brothers). Low key action and supporting cast could dampen theatrical reception for this, not helped by lukewarm word-of-mouth.
Three years after self-destructing on a breakfast TV show, Dr. Rick Marshall (Ferrell) finds himself teaching middle school, his outlandish theories about time travel discredited. When graduate student Holly Cantrell (Friel) questions Rick about an invention, he slaps together a prototype machine, and he and Holly head to a dusty tourist-trap cave in the desert to test it where they meet hillbilly proprietor Will Stanton (McBride).
On their tour the trio plunge down a waterfall and into a sort of hybrid alternate dimension, neither fully past nor present, where dinosaurs roam an apocalyptic wasteland littered with artefacts. Stalked by a Tyrannosaurus Rex they call Grumpy (for his murderous disposition), the group finds an unlikely friend in a primate named Chaka (Toccone), whose primitive language Holly happens to speak. Standing in the way of finding Rick's machine and getting home is a mass of reptilian Sleestaks, including one with designs on world domination.
If there's a unifying success to Land of the Lost, it comes from the way in which director Brad Silberling ably juggles its action mayhem with comedy, all under the banner of a single visual scheme. For all the intensity of its dino-rampaging, the movie's visual effects all have a similarly shimmery, slightly welcoming feel - neither totally terrifying nor kitschy. This is notably fed by the fact that almost all the film is set during the daytime.
Unfortunately, the story doesn't give Silberling much to work with. TV writers Chris Henchy and Dennis McNicholas demonstrate their limitations in a number of dawdling sequences. Changing the dynamic of the three main characters (it was a father and his two children on the TV show) would seemingly open up new avenues for comedic tension, but instead seems only designed to allow Friel's breasts to be groped. There's neither enough bickering friction nor cohesive cooperation to let the viewer connect properly with this motley crew; the characters are merely collective prisoners of a field trip through special effects.
What worked charmingly enough on the small screen - a hodgepodge of different eras – can come across here as merely haphazard, especially since there's no sustained effort made by the characters to come to terms with their new surroundings. Similarly, those not blinded by a nostalgic appreciation for the TV show might have trouble accepting that Chaka can understand English - as well as, apparently, Grumpy.
Few actors do blithely self-centred confidence as well as Ferrell, and that familiar spin he puts on Rick brings a few fitful smiles. McBride and Friel each gamely offer up piecemeal delights here and there with certain line readings, but Holly is terribly underwritten until an emerging love interest angle with Rick fleshes the character out. The technical credits are solid throughout, and Michael Giacchino provides a delightfully engaging score.
Production companies
Relativity Media
Mosaic Media Group
Worldwide distribution
Universal Pictures (UPI)
Producers
Jimmy Miller
Sid Krofft
Marty Krofft
Screenplay
Chris Henchy & Dennis McNicholas, based on the TV series by
Sid Krofft & Marty Krofft
Cinematography
Dion Beebe
Production designer
Bo Welch
Main cast
Will Ferrell
Danny McBride
Anna Friel
Jorma Taccone
John Boylan