Dir: Paul Kelly. UK. 2011. 90mins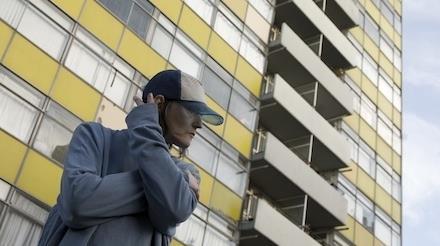 A five-year labour of love from Paul Kelly – who takes producing, directing, camera, editing and sound credits – Lawrence Of Belgravia is a winning documentary which looks on the page as if it's headed down a depressing rock-star narrative but, thanks to the mono-monikered Lawrence himself, emerges as a buoyant ode to a very flawed human spirit. Lawrence Of Belgravia will be liked, mainly because it's hard not to like Lawrence.
Lawrence Of Belgravia is evidently constrained by budgetary issues but looks handsome in parts.
General audiences are unlikely to be familiar with Lawrence because, tragically, he's never made it – UNCUT called him "one of the stars that fame forgot". Former lead singer of '80s indie band Felt and the creator of glam rockers Denim, he is, he admits, "completely obsessed with being famous". He may never achieve that goal, although he jokes about becoming the "first pop star pensioner" (he has just turned 50, and the years have taken their toll).
"Why haven't I made it?" he asks, and although it's true that he's had some rotten luck, Lawrence isn't self-pitying. "There must be something I can do," he decides, sitting beneath a self-penned sign which reads in part: "Here is someone who is happening right now".
Lawrence is decidedly down on his luck as we meet him, something that doesn't look to be a temporary state of affairs either. About to be evicted, he's in debt, on methadone, and he's also had some mental health problems. "I'm legally bonkers," he confesses, cheerfully.
His third band, Go Kart Mozart, is about to release an album, however, called On The Hot Dog Streets, which provides some narrative structure to the film and gives Lawrence a defining purpose. And certainly, people still love Lawrence's music. Felt and Denim are cult names, as is made clear by several journalists who interview Lawrence, and his answers give the film some biographical context. (One writes for a website and confesses he makes no money from it. "I knew it was crap, the internet," says Lawrence sympathetically.)
Birmingham born, Lawrence looks odd enough as Kelly's camera tracks him through London, with his dyed hair, hunched posture and tatty, visored cap. He may be chippy, but he's never unpleasant to be around, and this film is clearly a sympathetic collaboration between him and musician turned graphic designer, photographer and filmmaker Kelly.
Technically, Lawrence Of Belgravia is evidently constrained by budgetary issues but looks handsome in parts, and the opening credit sequence alone is an inventive showcase for what you can do on a shoestring. If you think Lawrence is deluded, however – and it's possible to view this film in a depressing light – spending five years tracking his non-career must be an equally irrational thing to do.
Thankfully, this turns out not to be the case, however, because even if Lawrence Of Belgravia is a successful documentary about failure, the man himself is very much a poster boy for 'it ain't over til it's over'. As his surprising cover of Roger Whittaker's New World In The Morning plays out at the end, it seems clear that the chances Lawrence lost in the past – the cover of NME, his single Summer Smash being pulled from the airwaves in the wake of Diana's death – could equally happen again.
In fact, could this be the big break he's been looking for at last…?
Production company/sales: Heavenly Films
Producer: Paul Kelly
Executive producer: Martin Kelly
Cinematography: Paul Kelly
Editor: Paul Kelly
Featuring: Lawrence