ACTOR: Despite the fact 22-year-old Londoner Leah Harvey just graduated from LAMDA this summer, she has already shot a lead role in Michael Winterbottom's next feature and is starring in Phyllida Lloyd's The Tempest at London's Donmar Warehouse with Lloyd's Henry IV yet to come.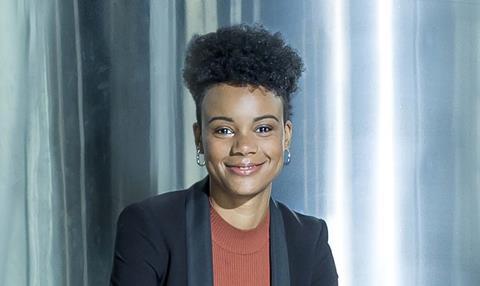 Click here for more Stars of Tomorrow
Winterbottom's film, On The Road, which premieres at the BFI London Film Festival, is a fictional love story that takes place against the real-life backdrop of UK rock band Wolf Alice's tour. Harvey stars alongside James McArdle, and the filming saw the two live on a bus with the band and crew.
"We went around the country, and had to just be in character basically the whole time," she says. "We'd do scenes in the day and then we'd be there at the gigs and after-parties."
Primarily improvised, the film boosted Harvey's confidence as an actor. "I just realised that I shouldn't doubt myself," she says. "There's always a little fear of, 'Oh, I'm not doing it well,' but I gained a lot of confidence, even in terms of my body image."
Earlier this year, Harvey auditioned for Dominic Dromgoole's production of The Tempest, which would have meant leaving LAMDA early.
"I really wanted to finish, but I was in the mindset that if something came along, whatever decision I made would be the right one," she says.
The role did not pan out but left Harvey with the opportunity to work with Winterbottom and come full circle with Lloyd's take on The Tempest, confirming one of her life's mantras: "Whatever happens is just an opportunity for something else to happen."
Contact Oriana Elia oriana@curtisbrown.co.uk