Dir: Audrey Estrougo. France. 2010. 87mins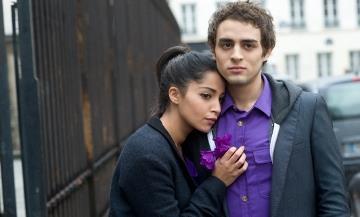 A musical set against the background of the 'sans papiers' protests that lit up Paris in the summer of 1996, Leila has its heart in the right place but fails to add up to much more than colourful multiethnic candy. Something quite gritty could have been made out of this material, even within the musical format, but Leila flunks the challenge, opting instead for safe cross-racial romance and even safer digs at nasty policemen and the decadent and hypocritical Parisian bourgeoisie.
Given the film's cross-age appeal, right-on message and lack of serious profanity or sex, Leila could easily fall into an early-evening prestige family niche.
One or two entertaining dance sequences and the panache and screen presence of the two young society-crossed lovers at the centre of the story give us something to chew on. And perhaps the director's familiarity with the French hip-hop and breakdance scene will carry some weight on home ground. Instinct would not suggest massive international potential, especially in view of the dubbing issues that always plague musicals – but Wild Bunch have chalked up a brace of sales on the title, in territories from Korea to South Africa. Perhaps the buyers have TV slots in mind: given the film's cross-age appeal, right-on message and lack of serious profanity or sex, Leila could easily fall into an early-evening prestige family niche.
Gab (Siksou) is a spoiled, idle rich kid from an upscale neighbourhood of Paris. Driving home drunk after an all-night gambling party, he clips the little brother of beautiful, feisty Arab-French law student Leila (Bekhti), and – seeing that sis is a stunner – insists on driving the boy to hospital for a check-up. In the waiting room, Gab begins to sing of his attraction for the fiery arabe, and after some fairly perfunctory resistance she begins to reciprocate. The problem is that Gab is engaged to be married – to Alex (Cecile Cassel, excellent in the part of a rich bitch who turns out to have a heart).
Meanwhile, Leila has her own problems: her law exam went badly and her immigrant friends (who hang out in a happy-funky Afro hairdressers') are being hassled by the cops - and not all of them are in France legally. When it turns out not only that Gab has been hiding his engagement from her, but also that he is the son of a police commissioner, things sour between them. But in the film's romantic main plot at least, nothing is very serious for very long, and Gab manages to sing his way back into her affections – something that undermines the feisty feminist kudos that Leila's character opens with. More successful in combining songs and real drama is the deportation subplot, which culminates in a touching prison scene that makes up in emotional commitment what it lacks in originality.
The genre frisson of Gab's first song – which nicely exploits the uncertainty of whether he's singing because he's singing, or because this is a musical – is not really followed up on, and although the actors use their sometimes faltering natural singing voices, Leila doesn't have the same insouciance as, say, Christophe Honoré's Les Chansons d'Amour in the way it integrates dialogue and song. Also, not all of the musical settings are of the same quality – some come across as low-grade provincial cabaret numbers. We come away from the film mildly charmed – but feeling that Leila could have tried harder to get its cinematic documents in order.
Production companies: Fidelite Films, Wild Bunch, Mars Films, France 2 Cinema
International sales: Wild Bunch, www.wildbunch.biz
Producers: Olivier Delbosc, Marc Missonnier
Screenplay: Audrey Estrougo, Juliette Sales
Cinematography: Guillaume Schiffman
Production design: Bertrand Seitz
Editor: Sophie Reine
Music: Baptiste Charvet
Main cast: Leila Bekhti, Benjamin Siksou, Cecile Cassel, Marie-Sohna Conde, Chantal Lauby, Nicolas Briancon