Dir: Clemence Ancelin. France. 2012. 117mins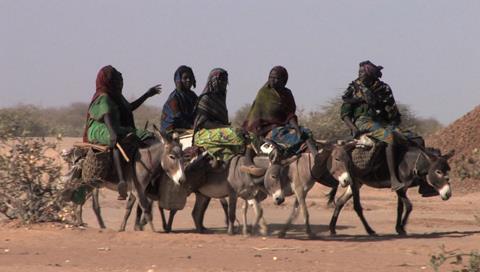 Living/Building (Habiter/Construire) is a forbiddingly remote documentary set around a giant construction project in eastern Chad's isolated Sahel Desert. Building a road across this parched landscape, a French company has set up a base near the mountain of Karaye that, long before the road itself can effect a change, has already altered the lives of the people around it.
Living/Building, shot largely with a handheld camera using ambient sound, is bare bones filmmaking.
Making her feature debut, 20-year-old French director Clemence Ancelin approaches her subject in a crab-wise manner, however: starting with the desert nomads whose sparse, hard-scrabble lives will seemingly never change - moving their camel herd from site to scrubland site depending on the rhythms of the rainy season (one of the shepherds is only five years-old).
It's a full 20 minutes before the viewer moves away from the gum trees to witness any physical evidence of the road, and even longer before Living/Building moves to the site at its heart.
With no music - these must surely be the only tribes not to even chant, or at least make rhythms that Ancelin is interested in - or voiceover, the severe Living/Building is not for the faint-hearted and will play to devoted ethno-doc audiences and those with an interest in the region. There's an eventual cumulative beat to this naturalistic piece, but Ancelin isn't interested in making Chad any more accessible for the casual viewer.
Short interviews set the picture in reverse-order - the French company's expatriate managers live in one camp, the African workers (most of them French-speaking migrants from other parts of Africa themselves) in another, where they employ an army of cooks and cleaners, drivers and electricians, who live in the site's final camp.
Local villagers monitor the road's progress; it is serviced by a worksite, where concrete structures are prefabricated. Small makeshift businesses have already sprouted up around the camp and the site, with locals selling the workers meals and supplies; one man has already built a house by the side of the new road, even though there is no traffic on it as yet. Some work as security guards. Other villagers remain immune to the progress.
Ancelin's film gives a thorough, 360-degree take on this microcosm, and as an ethnological study Living/Building is more than complete, documenting changes to the tough lives lived in this remote part of Chad. Villagers who exist completely off the land, their children in ragged clothes, are accepting of the idea of progress, even if they have little idea what it may mean.
Living/Building, shot largely with a handheld camera using ambient sound, is bare bones filmmaking, assisted in post by an editing residence at France's Peripherie-Cinematography Centre. A challenging piece from the outset, even the film's de-rigeur goat-slaughtering interlude is more aggressive than the norm, as if it's laying down a challenge, alongside the road itself.
Production companies L'Outil, Fin Avril
International sales: Fin Avril, www.finavril.com
Producer: Emmanuel Deswarte
Cinematography: Clemence Ancelin
Editor: Laureline Delom