Turkish casting director one of 16 nominated for prize.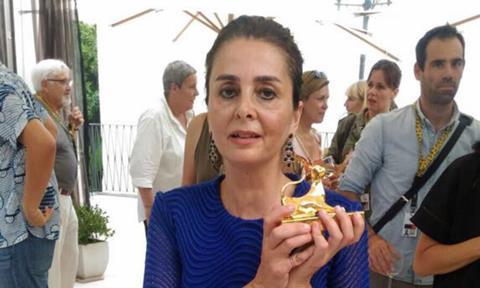 Turkish casting director Harika Uygur [pictured] has won the Locarno Film Festival's European Casting award for her work on Cannes 2015 hit Mustang.
The Oscar-nominated drama charts the coming-of-age of five carefree girls whose conservative guardians confine them while forced marriages are arranged.
Uygur was one of 16 European casting directors nominated for the award, which was decided on by the 83 members of the International Casting Directors Network (ICDN), which represents casting directors in 24 countries.
"This casting director created an organic family that was totally believable; the match of characters and actresses was perfect," the ICDN told Screen in a statement.
The inexperienced young actresses in lauded drama Mustang - Elit Iscan, Gunes Nezihe Sensoy, Doga Zeynep Doguslu, Ilayda Akdogan, and Tugba Sunguroglu - were widely praised for their performances.
Uygur's recent credits include The Ottoman Lieutenant and Lady Winsley. She is also a member of the Academy of Motion Picture Arts and Sciences.
The 16 contenders for the European Casting Director Award:
Simone Bär (Denmark) for Land of Mine by Martin Pieter Zandvliet, 2015
Nicole Schmied (Austria) for Die Holle/Inferno by Stefan Ruzowitzky, 2017
Youna de Peretti (France) for Victoria by Justine Triet, 2016
Nina Haun (Germany) for Toni Erdmann by Maren Ade, 2016
Esther Kling (Israel) for One Week and a Day by Asaph Polonsky, 2016
Francesco Vedovati (Italy) for Pericle il Nero by Stefano Mordini, 2016
Frank Moiselle & Nuala Moiselle (Ireland) for The Secret Scripture by Jim Sheridan, 2015
Rebecca van Unen (Netherlands) for Layle M by Mijke de Jung, 2016
Celine Engebrigtsen, (Norway) for Framing Mom by Sara Johnson, 2016
Marta Kownacka (Poland) for The Art of Loving. Story of Michalina Wislocka by Maria Sadowska, 2017
Viorica Capdefier (Romania) for Scarred Hearts by Radu Jude, 2016
Luci Lennox (Spain) for Realive by Mateo Gil, 2016
Jeanette Klintberg (Sweden) for A Serious Game by Pernilla August, 2016
Corinna Glaus & Ruth Hirschfeld & Beatrice Kruger (Switzerland) for The Divine Order by Petra Biondina Volpe, 2017
Harika Ulgur & Kristin Diehle (Turkey) for Mustang by Deniz Gamze Ergüven, 2015
Gail Stevens (United Kingdom) for T2 Trainspotting by Danny Boyle, 2017
Avy Kaufman (United States) for A Bigger Splash by Luca Guadagnino, 2015