Dir: Brillante Mendoza. Philippines-France. 2009. 110 mins.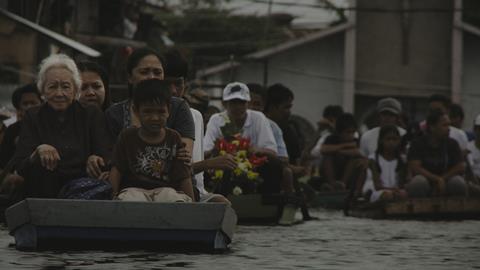 Philippine filmmaker Brillante Mendoza has come up with his most humane, ethically resonant film yet with a story of two grandmothers dealing with the consequences of a murder. This compassionate study, which deals with the way justice is a relative concept in a world of abject poverty, almost acts as a response to those who accused his recent Cannes competition entry Kinatay (which touches on the same themes in a far more savage vein) of partaking of the moral depravity it depicts.
Mendoza's film is in many ways a study of social and moral adaptation
Screening in Venice in a surprise last-minute competition slot, Lola's handheld aesthetic, gritty neo-realist feel and slow pacing will obviously confine it to arthouse circuits, but within this niche Lola could turn out to be Mendoza's most commercially viable film to date internationally.
Mendoza's style is so allergic to exposition that it takes a while for the story to take a grip – but in the end, this reticent, unforced approach makes the drama all the more affecting. We see Lola Sepa (Linda) – 'Lola' means 'grandmother' in Tagalog – trying to light a candle in a high monsoon wind for her grandson, who was killed in the street while defending himself against a cellphone robber.
The stubborn persistence of this frail woman as the wick fails to take or the lighter flame is blown out is a reflection of her life, which is all graft and struggle as she moves from funeral parlour to pawn shop to municipal office attempting to raise the money for the funeral.
After a while another old lady enters the scene: Lola Puring (Carpio), the grandmother of Mateo, the youth who has been arrested on suspicion of murdering Lola Sepa's grandson. Here a gradual shift or rather balancing of sympathies begins as Lola Puring, who scrapes a living from her family's street fruit and vegetable stall, sets out on her own quest to raise the money for the cash gift that is required for the family of the dead man to drop charges.
In both cases its these elderly women who clean up the messes made by the men in their families – who are either absent, disabled (like Lola Puring's son) or wrapped up in themselves – like Bebong (Hilario), her other grandson, who complains bitterly when his grandmother pawns the TV set in an attempt to raise the money needed to get his brother out of jail.
Set partly in the permanently flooded Malabon district of Manila, where families live in stilt houses above the water, Mendoza's film is in many ways a study of social and moral adaptation – of how people fight for decent lives in the urban jungle against incredible odds.
The film's compassionate eye and support of community values is matched by an almost romantic spin in certain scenes, like the floating night-time funeral procession with its flotilla of little boats. Mendoza even resorts to some unashamedly emotional soundtrack music in certain scenes.
To sign up for Screen's weekly Reviews Newsletter with all the week's new releases, internationalopenings and full festival reviews delivered free to your mailbox every Friday, please click HERE
Production companies
Swift Productions
Centerstage Productions
International sales
The Match Factory
+49 221 539 7090
Producer
Ferdinand Lapuz
Screenplay
Linda Casimiro
Cinematography
Odyssey Flores
Production design
Dante Mendoza
Editor
Kats Serraon
Music
Teresa Barrozo
Main cast
Anita Linda
Rustica Carpio
Tanya Gomez
Jhong Hilario
Ketchup Eusebio