Dir/scr: William Monahan. UK. 2010. 104mins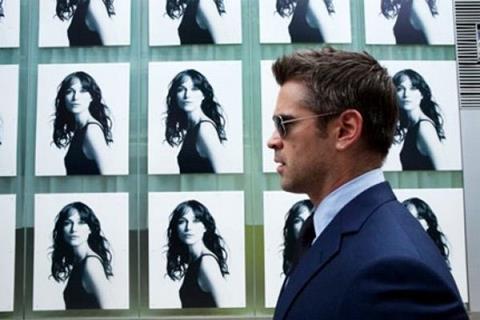 Writer William Monahan's directorial debut, an urban crime drama-meets-Notting Hill love story, boasts all the fundamentals: a strong cast, interesting characters and some nifty dialogue, a gritty London setting and plenty of plot potential. Too much of everything, as it turns out. Lead Colin Farrell's bewildered face is only a hint of what's to come, and soon enough London Boulevard is veering dementedly off the tracks at the speed of the train from Unstoppable.
The only question remaining by the end credits is whether London Boulevard is barmy enough to eventually become cult viewing.
While an increasingly barmy plot peopled by crazies isn't necessarily a box office deterrent, it's hard to imagine anybody walking away from this without scratching their heads. Rich technical credits and a top-line cast may attract audiences and pique cable interest initially, but London Boulevard is a curio at best.
Farrell, as recently-released criminal Mitchel, brings to mind what LBJ said about Gerald Ford walking and chewing gum as he attempts to act while delivering a 'sarf'-London accent. While the effort adds a little frisson to events, it also appears to have stunned the actor, leading to the conclusion that his character may have taken one too many beatings around the head.
After his stretch for GBH, Mitchel is met at Pentonville prison by his dodgy mate Billy (Ben Chaplin, strong). Mitchel wants to go straight, but takes Billy up on his offer of a suspicious apartment in Kennington. One thing leads to another, and soon the Savile Row-suited Mitchel is being offered a job as gardener-cum-minder to Keira Knightley's Charlotte, a reclusive Sunset Boulevard-y actress, in her lush Notting Hill house.
"If it wasn't for Monica Bellucci she'd be the most raped actress in European cinema," says Charlotte's "polymath butler" Jordan, played with aplomb by David Thewlis in what must be the daftest screen role in years, although Anna Friel as Mitchel's slutty sister Briony gives him a run for his money.
If The Departed's Monahan, going behind the camera with his own adaptation of the novel by Ken Bruen, had left it at that, London Boulevard could possibly have massaged its way into becoming a workable commercial prospect. But no, Ray Winstone as London crime boss Gant roars in to up the ante, and a barrage of "fahk you" and "you cant" isn't far behind.
With little new to bring to the part of a deranged London mobster, Winstone's appearance is a clear signal that all bets are now off. The actor plays a sadistic, suit-wearing amalgam of all his previous Cockney gangster characters, and he squares off against Colin Farrell in a scene at the Criterion Brasserie in which Monahan effectively torches his own film.
Charlotte/Keira? She's on a plane to Los Angeles, the lucky lass, as Monahan hurls that particular plot strand aside to veer wildly off in other directions. There's a murdered hobo, a footballer, the butler, the paparazzi, the Nation of Islam and a Bosnian hitman who appears out of nowhere in a sleazy strip joint to keep things thumping along to the point where you realise that Farrell's baffled look is perhaps the only logical reaction to London Boulevard.
With a strangely anachronistic 1960s-score bumping the viewer around, the only question remaining by the end credits is whether London Boulevard is barmy enough to eventually become cult viewing.
Production companies: GK Films, Henceforth Pictures, Projection Pictures
International sales: GK Films , www.gk-films.com
Producers: Graham King, Tim Headington, Quentin Curtis
Cinematography: Chris Menges
Production designer: Martin Childs
Music: Sergio Pizzorno
Main cast: Colin Farrell, Keira Knightley, David Thewlis, Anna Friel, Ben Chaplin, Ray Winstone, Eddie Marsan, Sanjeev Bhaskar, Stephen Graham