In the wake of the shock US presidential election result, the Mexican DoP and Oscar nominee on Wednesday issued a plea for mutual understanding between Mexico and the rest of the world at the launch of the fifth Los Cabos International Film Festival.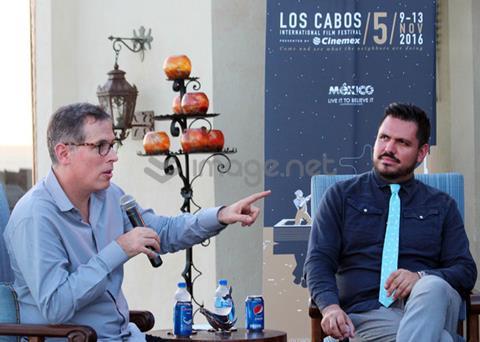 Accepting his tribute honour at The Resort At Pedregal from Mexican director Carlos Carrera, Prieto alluded to this week's stunning victory for Donald Trump, whose derogatory remarks towards the Latino community have caused widespread outrage.
"This festival helps Mexican filmmakers and producers to collaborate with other colleagues around the world, and that's the key," said Prieto (pictured at left) as he joined festival director Alonso Aguilar Castillo (pictured at right) on stage.

"Seeing the other not as an enemy, but as someone who we can collaborate and be compassionate."
Prieto's upcoming films include Passengers and awards hopeful Silence. He earned an Oscar nod for Brokeback Mountain in 2006 and his credits include The Wolf Of Wall Street and Amores Perros.
The fifth edition of the annual festival kicked off with the Latin American premiere of Jackie from Pablo Larrain.
Attendees included Colombian director Ciro Guerra and fellow competition jurors Gibrán Portela, Gerald Peary, Ernesto Diezmartínez, Chiara Arroyo, Charles Tesson and Toronto International Film Festival artistic director Cameron Bailey.
This year the festival, which runs through November 13, hosts its first Los Cabos Meet-MART.