Dir/scr: Ryan Gosling. US. 2014. 105mins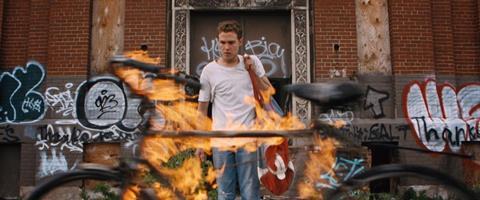 It may well be strong on evocative imagery and a vibrant sense of danger and moodiness but Ryan Gosling's heavily-hyped directorial debut turns out to be an over-cooked affair that lacks much needed wit and humour to go alongside its self-aware art intentions. There is great deal of good will for the charming and smart Gosling out there, but it is unlikely to extend to Lost River – especially since he has no on-screen role – once poor word of mouth leaks out.
There are moments to cherish in Lost River – mainly visual metaphors and fine cinematography – but the film ultimately fails to engage despite Ryan Gosling's highbrow intentions.
There is a strong cast doing their very best here, and they come out with reputations pretty much intact, but in a bid to make an intellectually sound dark fairy tale Gosling has failed to make a film that succeeds as a piece of entertainment. There are echoes of David Lynch (especially) in terms of the American Gothic style and Nicolas Winding Refn when it comes to a few sharp moments of violence, but the film lacks the humour that defines Lynch's best work or the relish for blood of Refn at his best.
Whether it will appeal to Gosling fans is another matter. It is dense and challenging with a reliance on impressively shot visuals rather than narrative, while character development is enigmatic and loose. The fact that it screened in Un Certain Regard suits its bold and mannered style, but it is a film that will win few friends, especially since expectations are so high.
Where it does succeed is in its lurid sense of atmosphere. Billy (Christina Hendricks) is a single mother trying to keep her family together in the run down city of Lost River. Her youngest son Franky (Landyn Stewart) wanders the overgrown streets and abandoned buildings, while adult son Bones (Iain De Caestecker) scavenges for parts for his car while also trying to sell scrap metal.
To try and keep hold of their house she takes a job in a seedy and macabre club (the entrance way is a snarling monster, implying a descent into hell) where she works alongside Cat (Eva Mendes) and tries to fend off club boss Dave (Ben Mendelsohn). Bones has his own nemesis in the form of violent town thug Bully (an impressive Matt Smith), who cuts off the lips of those who go against him.
Bones becomes obsessed with the ruins of an abandoned town and dinosaur theme park at the bottom of the local reservoir, and with Bully hot in his heels he dives to search for his own oddball treasure. Meanwhile his mother seeks to escape from the strange desires of Dave and try to get her life back in some for of order. Both must take extreme measures.
Iain De Caestecker (whose profile is on the rise due to his role in Marvel's Agents of SHIELD) is nicely moody as Bones while Matt Smith (from the UK's Doctor Who) has a fine old time as the deliciously over the top – though rather undefined – villain. The split storyline means that Christina Hendricks feels like she is in the David Lynch-style portion of the film most of the time, but she remains a vibrant forceful film personality. Saoirse Ronan is rather muted as Rat, the girl next door who takes a shine to Bones, while scream queen legend Barbara Steele has a rather wasted cameo as her home-bound grandmother.
If the nightclub scenes are pure Lynch (but sadly without the humour) then the look of Lost River - which shot with the more evocative title How To Catch A Monster- is very reminiscent of Alma Har'el's striking documentary Bombay Beach with its oddball working class characters and striking sense of atmosphere. There are moments to cherish in Lost River – mainly visual metaphors and fine cinematography – but the film ultimately fails to engage despite Ryan Gosling's highbrow intentions.
Production company: Bold Films
International sales: Sierra Affinity, www.sierra-affinity.com
Producers: Ryan Gosling, David Lancaster, Michel Litvak, Marc Platt, Adam Siegel, Jeffrey Stott
Executive producer: Gary Michael Walters, Noaz Deshe
Cinematography: Benoit Debie
Editors: Valdis Oskardottir, Nico Leunen
Production designer: Beth Mickle
Music: Johnny Jewel
Main cast: Christina Hendricks, Iain De Caestecker, Saoirse Ronan, Eva Mendes, Matt Smith, Ben Mendelsohn, Reda Kateb, Barbara Steele