Jonathan Majors powers through this uneven story of a bodybuilder at war with himself and the world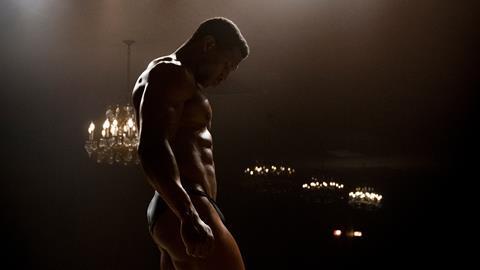 Dir/scr: Elijah Bynum. US. 2023. 124mins
Much like its protagonist, Magazine Dreams is a film at war with itself. A character study about an aspiring bodybuilder who is grappling with mental health issues, writer-director Elijah Bynum's second feature is often riveting, its heartbreak and pain amplified by Jonathan Majors' brilliantly anguished performance. But just as its subject risks imploding at any moment, this confident drama eventually starts to unravel, fumbling its final third while trying to find the right ending for such a damaged, raging soul.
Asks a lot of viewers, providing us little respite from this intense, troubled bodybuilder
Screening in Sundance's US Dramatic Competition, the film should earn raves for Majors, who articulates the torture of his character's emotional and mental tumult. Magazine Dreams asks a lot of viewers, providing us little respite from this intense, troubled bodybuilder. As a meditation on mental health and violence, Bynum's exploration is thoughtful and compassionate, even if it's not as successful in its follow-through.
When we first meet Killian (Majors), the camera hovers over his beautifully chiseled body, taking in his every sculpted muscle. Determined to be the best, Killian writes fan letters to his favourite bodybuilder, Brad, telling the superstar about his life and hoping one day to receive a reply. But Killian has severe anger issues — an altercation in the past means he has to see a therapist — and is caring for his ailing grandfather (Harrison Page), a Vietnam veteran. The more time we spend with Killian, the clearer it becomes that this desire to become a legend in the bodybuilding community is a way to make up for a difficult childhood and mental health issues he can barely control.
Bynum (Hot Summer Nights) immerses us completely in Killian's milieu, showing the audience how the world of competitive bodybuilding operates. Quickly, Magazine Dreams illustrates that, despite Killian's impressive body, he's actually not as striking as his rivals — a realisation that only provokes him to train harder and eat better, not to mention inject himself with dangerous amounts of steroids. The film projects the same blinkered worldview as Killian, wilfully suffocating us in his relentless quest to be stronger and more cut.
Beyond shaping his physique for the role, Majors astonishes with the laser focus he brings to Killian. Socially awkward and feebly suppressing a simmering anger, Killian is ill-equipped to deal with the outside world — a point driven home in humiliating fashion when he goes on a disastrous date with kindly Jessie (Haley Bennett), who works at the same grocery store as he does. Majors creates a fascinating internal logic for his character's hair-trigger temper and poor communication skills, never letting Killian feel like just a bundle of actorly tics. And even when Magazine Dreams asks its protagonist to make questionable decisions during the film's second half, Majors is so committed to Killian's downward spiral that he helps the implausible twists feel more organic.
Magazine Dreams might draw comparisons to Taxi Driver in that they're both about scarred loners who seek out love, only to face rejection and, as a result, embrace violence. Bynum's film doesn't have nearly the artistic heft of that epochal Martin Scorsese picture, but Magazine Dreams grieves for Killian, who has remade his body to cover up the traumas he's been carrying. Bynum only offers up a few insights about Killian's backstory, but when we learn them, they're crucial puzzle pieces in understanding the character's makeup. As imposing as Killian is physically, Majors exudes a potent vulnerability that can be quite poignant — even when the character explodes in fury after over-reacting to something relatively minor.
Despite the nicely modulated opening reels — the writer-director and his star slowly revealing the depth of Killian's internal issues — Magazine Dreams starts to list badly after the halfway point. Bynum goes in provocative directions, intentionally evoking hot-button societal issues about random violence, police brutality and senseless killings. But these don't feel entirely thought-through, which is also true of a few plot digressions that stall the film's momentum.
Rather than becoming more taut and distressing, Magazine Dreams meanders and grows repetitive, hinting at several possible endings before landing on one that doesn't feel entirely satisfying. There is much that's stirring about the gauntlet that Bynum and Majors have thrown down in the form of their uncompromisingly obsessive character — but also much that is frustrating considering that the risks don't always yield comparable rewards.
Production company: Jennifer Fox Productions
International sales: CAA, sarah.schweitzman@caa.com, benjamin.kramer@caa.com and christine.hsu@caa.com
Producers: Jennifer Fox, Dan Gilroy, Jeffrey Soros, Simon Horsman
Cinematography: Adam Arkapaw
Production design: Freyja Bardell
Editing: Jon Otazua
Music: Jason Hill
Main cast: Jonathan Majors, Haley Bennett, Taylour Paige, Harrison Page, Harriet Sansom Harris, Mike O'Hearn