Dir/scr: Carlos Vermut. Spain-France. 2014. 127mins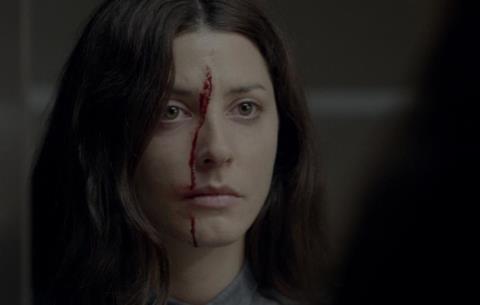 The confident and impressively talented young Spanish director Carlos Vermut's Inky-black Magical Girl is a jarring, compelling, if low-key work of cinema. There's lot swimming around Magical Girl's dark depths, and the film delights in constantly shuffling crabwise out of easy reach.
Magical Girl is an exciting project, in which Barbara Lennie's intense, unhappy performance strikes a keynote.
In it, Vermut presents a riveting mix of off-key humour, formal bleakness and tired, twisted souls who walk in the footsteps of Saura and Bunuel. It's a modern noir involving blackmail, masochism and murder, set against the backdrop of recessionary Spain.
Magical Girl, which refers to Japanese anime but also the shadowy woman at the centre of the story, is Vermut's second film, although his first, the cult Diamond Flash (2011) was not released theatrically. Magical Girl is ambitious, clocking in at 127 minutes, and it's not without its flaws, particularly in the final act.
But Vermut has a definite cinematic voice; he paints his film in colours which call to mind Haneke, Tarantino, Lanthimos, and, clearly, the formidable Spanish cultural canon (the first few minutes alone make reference to Lorca and La Colmena). But Magical Girl has a tone of its own - dark, silky and pleasingly unpredictable.
The tension of the Spanish recession lurks as a backdrop and is clearly a driver but even though he structures Magical Girl like a chess game, Vermut's main characters are no predictable pawns. They play out their parts in a very sterile-looking, stripped, stylised, film, with three plot strands ebbing and flowing. Although it involves a dying child, blackmail and torture, Magical Girl also has a well-defined sense of humour (although this can – as in the case of blackmail money hidden inside a copy of the neglected Spanish Constitution – be biting).
Spanish acting veteran – if not legend – Jose Sacristan is the first of Magical Girl's three main characters to make an appearance, but he's the last to tell his story. Following his intriguing prologue, Luis (Luis Bermejo) and his 11-year-old daughter Alicia (Pollan) take to the stage. Alicia, who likes to call herself Yukiko, is dying of leukemia and obsessed by the anime world of the magical girl: the power she desires is to transform, and her dearest wish is the Magical Girl dress designed by Meiko Saori for the signer Megumi. At just shy of Euros7,000, this is beyond the capabilities of unemployed literature teacher Luis. But he'll do anything for this daughter.
Next is the unforgettable character of Barbara (Barbara Lennie), a severe, damaged beauty (she looks like a young Marina Abramovich) who lives a life of spoiled luxury under the care of her controlling husband Alfredo (Israel Elejalde). She will accidently come into contact with Luis, who swims into waters where the big sharks prey.
Magical Girl has some fantastically original moments. Alicia says she'd like to try a cigarette, and a gin and tonic, and her father complies – it's funny, but it's very sad, given this will be her only opportunity. Barbara jokes about throwing a baby out of the window, and her character is both terrifying and vulnerable as she crushes her head against a glass mirror – laying waste to the enfeebled heroine of 2011's Sleeping Beauty.
And behind it all is a broken, "drowning" Spain, a challenge which Vermut tackles with brio and bravery. Magical Girl is clearly not a lavishly-funded production, and the producers should be credited with allowing their 34-year-old director his full say.
Surefooted for the most part, Vermut's story finally stumbles as Damian's (Sacristan) last act starts to play out, stuck in the doldrums of real time before moving up a beat to an explosive pay-off. A wheelchair-bound character who opines about bullfighting and the Spanish psyche also strikes an off note, and the inter-titles may make more sense on a second viewing.
Throughout, Vermut's musical choices are strategic, with Manolo Caracol's gypsy lament Nina De Fuego (Burning Girl) making a repeat appearance, alongside Satie's haunting Gnossiennes. Sound effects are sparse, but in the case of a growing chorus if cicadas, suddenly terrifying. Magical Girl is an exciting project, in which Barbara Lennie's intense, unhappy performance strikes a keynote.
Production companies: Aqui Y Alla Films, Films Distribution
International sales: Films Distribution, info@filmsdistribution.com
Producer: Pedro Hernandez Santos
Cinematography: Santiago Racaj
Editor: Emma Tusell
Production designer: Carlos Vermut
Music: Daniel De Zayas
Main cast: Jose Sacristan, Barbara Lennie, Luis Bermejo, Israel Elejalde, Lucia Pollan