Dir/prod.: Hannah Rothschild. UK. 2010. 75mins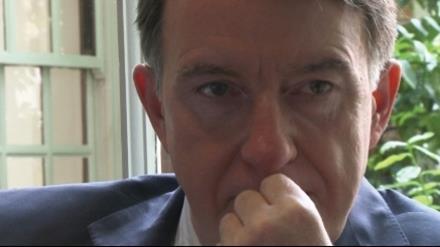 When a political documentary works –The War Room for example – it channels the adrenalin which addicts politicians and the sheer thrill of the pure political animal. Hannah Rothschild's documentary for BBC's Storyville strand is an extraordinary portrait of Britain's Peter Mandelson in the run-up to this May's general election.
Rothschild brings an artistic sense to the proceedings, particularly in early shots of an ice-bound Westminster.
The then-First Secretary of State and Business Secretary and the mastermind behind Labour's doomed electoral campaign, Baron Mandelson of Foy gave Rothschild unusually-extensive access to the corridors of power in Westminster complete with frank behind-the-scenes exchanges as the pressure mounts. "PM" is also shown at home, walking his dog, and standing in his underpants as he changes for an official function.
Mandelson: The Real PM? isn't a political documentary, however; it falls somewhere between an intimate portrait of the figure formerly dubbed The Prince of Darkness and a compelling look at the nature of power. As such, Hannah Rothschild's documentary has the potential to attract wider audiences than the Westminster village despite its narrow UK focus and sits comfortably in the Storyville roster of excellence (Hoop Dreams, Roman Polanski: Wanted and Desired).
Twice dispatched from Tony Blair's cabinet in disgrace before being recalled by Gordon Brown, Mandelson – who has released a controversial biography since filming – was the shadowy third partner in New Labour's ultimately-disastrous Blair-Brown marriage. In the latter years of the Labour regime, he moved to take a more visible role in UK politics, his combative sharpness an acidic alternative to fudging populism. As the journalist Jon Snow comments: "He's a political force we've never seen in this country before."
The general election shows him in his element, in particular a public barracking of the current Chancellor George Osborne: "I felt a sense of power and perhaps I showed it too much," says Mandelson of his early days in government. Rothschild's documentary indicates that little has changed. It also shows how Mandelson's life is entirely devoted to the political arena (famously guarded, no reference is made here to his partner Reinaldo). Appealingly unemotional, he says he "loves" Tony Blair because "I like effectiveness, I like people who agree with me, I like people who are nice and decent and he was all three."
Rothschild brings an artistic sense to the proceedings, particularly in early shots of an ice-bound Westminster. Filming constraints – from her shoulder – lead to an uncomfortable perspective up Mandelson's nose for much of the proceedings, however and there's a jumpiness which doesn't make this documentary an aesthetically comfortable view. You get the sense that Peter Mandelson would appreciate that.
Production company: Clandestine Films
International sales: Clandestine Films, 0207 286 3636
Executive producer Nick Fraser
Cinematography: Hannah Rothschild
Editor: Ollie Huddleston