Dir/scr Isabel Coixet. Spain. 2009. 106 mins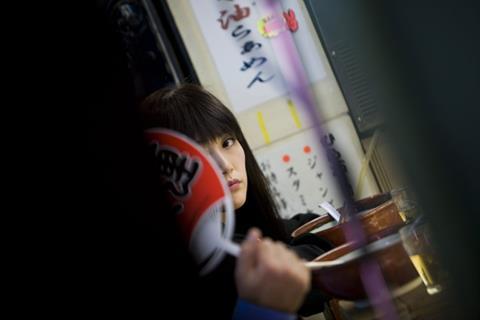 A designer noir-romance with a designer title and designer emotions, Isabel Coixet's follow-up to Elegy is as empty as a shiny new Prada handbag on a boutique shelf. Scripted for style and atmosphere rather than for substance, this lushly shot and scored Tokyo-set bauble with its dirge like pacing features unlikely couple Sergi Lopez and Rinko Kikuchi in an affair that seems dictated more by their star status than their chemistry, which is notably lacking.
Jean-Claude Larrieu's rich close-up camerawork has undeniable style, caressing surfaces and textures in classy, slightly desaturated colour
Map's slick production values, trendy global-fusion ambience, glossy melancholia and raunchy but female-oriented sex scenes seem calculated to make this extended jazz-pop video a commercially viable date movie for couples looking for a bit of upmarket lust, but the critical reception at Cannes has been cool.
After a Tokyo-by-night credit sequence things start promisingly with a striking restaurant scene where a group of deal-clinching Japanese and Western businessmen eat sushi off naked models' bodies. But the feast is soured when senior executive Nagara (Nakahara) gets a call telling him his daughter has committed suicide; she had been in a relationship with Spanish wine shop owner David (Lopez), whom Nagara blames for her death – so like any grieving father, he asks his faithful assistant Ishida (Sakaki) to find a hitman to whack David.
The hitman turns out to be a hitwoman , Ryu (Kikuchi), a solemn loner who works nights at the fish market. Her only real friend is an elderly sound recordist (Tanaka), whose elegaic voiceovers seem to serve little purpose than to give away the ending from the start and compensate for Kikuchi's one-note performance as Ryu by filling us in on her dark, enigmatic, under-developed character .
Sound recording can mine a rich narrative seam, as The Conversation and The Lives of Others demonstrated; here, though, it has no bearing on the story and seems chosen purely because it's a cool and quirky job for the narrator to have.
Somewhat predictably, Ryu falls for the man she was sent to erase, and they begin a series of sexual encounters in a Parisian-themed love hotel, that carry distant echoes of Intimacy and Last Tango in Paris. By turns steamy and tender, these tastefully explicit scenes work fine within the confines of the themed room the couple always book, but they don't make us believe in the connection between the two lovers. It doesn't help that their wooden English dialogue sounds at times like an outtake from a language class; but the main problem is that neither lead really seems to have found a way into their role, and Lopez in particular gives one of his most soulless performances in years.
Jean-Claude Larrieu's rich close-up camerawork has undeniable style, caressing surfaces and textures in classy, slightly desaturated colour. A sparingly used soundtrack mixes urban jazz and bossanova themes with indie rock ballads – but its pretensions are exposed in an unintentionally hilarious scene towards the end when an angst-filled David sings along to Depeche Mode's Enjoy the Silence in a karaoke bar (Lopez impressively delivers dialogue in Japanese, English and Catalan). Nouvelle cinematic fusion food was rarely so insubstantial and unsatisfying.
Production companies
Mediapro
Versatil Cinema
International sales
Imagina
(34) 91 728 57 38
Producer
Jaume Roures
Cinematography
Jean Claude Larrieu
Production design
Ryo Sugimoto
Editor
Irene Blecua
Main cast
Rinko Kikuchi
Sergi Lopez
Min Tanaka
Manabu Oshio
Takeo Nakahara
Hideo Sakaki