Documentary director Mark Cousins and distributor Dogwoof threw a workshop for youngsters based around feature A Story of Children and Film.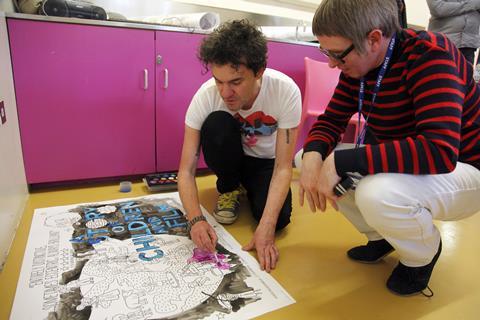 Young cinemagoers were given the chance to design their own movie poster under the keen eye of Mark Cousins, director of documentary A Story of Children and Film.
The director, who debuted the film at Cannes 2013, teamed with distributor Dogwoof to throw the film poster design workshop, held at London's V&A Museum of Childhood.
Youngsters aged 7-11 listened to Cousins as shared in detail the moment he watched a film for the first time.
The event followed a screening of The Red Balloon, one of the many features that appear in Cousins' doc. The young viewers gasped as Pascal reached the balloon for the first time, laughed during the lighter moments, and whispered to each other about how they thought the film may end.
After the film, the kids were given chance to colour the first blank posters for the film that will go on public display at cinemas throughout the UK. Sam Ashby design depicts the world with cartoon figures of the child icons featured in the documentary, standing in their respective country.
Speaking to ScreenDaily, Cousins said: "A children's party is like a film event. Whether we are marketers, producers or distributors, fun comes out marrying unexpected elements.
"Children have far, far more access to films than ever before but the problem isn't how to see it - the problem is what to choose and where to start.
"This is where the idea of curation comes in. The essence of curation is relevant to the digital age. So it's good to have someone that can filter out the best."
Talking about the audience for his doc, Cousins said: "It's for an audience of 12 and over because they've been children. Those who've experienced childhood are the best audience."
Explaining how the workshop came about, Oli Harbottle, head of distribution at Dogwoof, said: "The idea for this event came from the message of the film - the wonders of childhood. It's a way to engage children and get them interested in film."
The workshop could be repeated elsewhere. "We've already mentioned this idea to Picturehouse Education and hope to present this concept to cinemas in other cities and countries."
Cousins is preparing a tour set to begin next month titled Cinema of Childhood. It will be curated by the director and managed by Filmhouse. It will screen 17 films about childhood, most of which feature in Cousins' doc.
"Beyond the classics there are movies about children from Korea, Japan, South Asia, Iran," he said.
"It is a more vibrant area than we think. Movies and children were made for each other."
A Story of Children and Film will be released in the UK by Dogwoof on April 4.