Festival brass unveil Rising Stars, Telefilm Canada Pitch This! finallists, and more.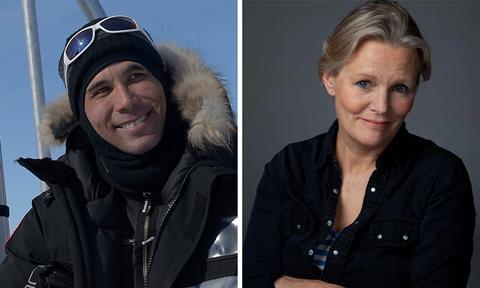 Mary Harron, Kim Nguyen (both pictured above), Ingrid Veninger, and Denis Côté are among the familiar names in the 26-strong Canadian Features slate that Toronto International Film Festival programmers unveiled on Wednesday.
The selection comprises the highest number of feature directorial debutants and films from Western Canada in recent years. More than 30% of the titles are by first-time feature directors.
Festival brass also announced Short Cuts, TIFF Cinematheque, Rising Stars, Telefilm Canada Pitch This! finallists, and the recipient of the 2017 Len Blum Residency.
The 42nd Toronto International Film Festival runs from September 7-17.
CANADIAN FEATURES
"It is exciting to see a new wave of Canadian first-time feature directors play with genres and take risks," TIFF senior programmer Steve Gravestock said. "This year's line-up has a truly international feel to it, too, with a number of features shot all over the globe — something that also speaks to the boldness of many of the filmmakers included in the slate."
SPECIAL PRESENTATIONS
Eye On Juliet, dir. Kim Nguyen, NAP
MASTERS
Our People Will Be Healed, dir. Alanis Obomsawin, WP
TIFF DOCS
The Carter Effect (Canada-USA), dir. Sean Menard, WP
Living Proof, dir. Matt Embry, WP
There Is A House Here, dir. Alan Zweig, WP
DISCOVERY
A Worthy Companion, dirs. Carlos Sanchez, Jason Sanchez, WP
All You Can Eat Buddha, dir. Ian Lagarde, WP
AVA (Iran-Canada-Qatar), dir. Sadaf Foroughi WP
Black Cop, dir. Cory Bowles, WP
Cardinals, dirs. Grayson Moore, Aidan Shipley, WP
Luk'Luk'I, dir. Wayne Wapeemukwa, WP
Mary Goes Round, dir. Molly McGlynn, WP
Never Steady, Never Still, dir. Kathleen Hepburn, WP
CONTEMPORARY WORLD CINEMA
BLACK KITE (Canada-Afghanistan), dir. Tarique Qayumi, WP
Don't Talk To Irene, dir. Pat Mills, WP
Les Affamés (France-Canada), dir. Robin Aubert, WP
Meditation Park, dir. Mina Shum, WP
Porcupine Lake, dir. Ingrid Veninger, WP
Public Schooled, dir. Kyle Rideout, WP
Pyewacket, dir. Adam MacDonald, WP
The Little Girl Who Was Too Fond of Matches (La Petite Fille Qui Aimait Trop Les Allumettes), dir. Simon Lavoie, WP
PRIMETIME
Alias Grace (Canada-USA), dir. Mary Harron, WP
WAVELENGTHS
PROTOTYPE, dir. Blake Williams, NAP
A Skin So Soft (Ta Peau Si Lisse, Canada-Switzerland), dir. Denis Côté, NAP
TIFF CINEMATHEQUE
I've Heard the Mermaids Singing, dir. Patricia Rozema, 1987
*New digital restoration: Work carried out at Technicolor, Toronto and Montreal under the supervision of Director Patricia Rozema
Picture Of Light, dir. Peter Mettler, 1994*New digital restoration: Work carried out at Technicolor, Toronto and Montreal, with soundtrack restoration by Lou Solakofski of Tattersall Sound and Picture, and Peter Bräker sound design, Switzerland, under the supervision of Director Peter Mettler
Rude, dir. Clement Virgo, Canada, 1995
*New digital restoration: Work carried out at Technicolor, Toronto and Montreal under the supervision of Director Clement Virgo and Producer Damon D'Oliveira
North Of Superior, dir. Graeme Ferguson, Canada, 1971
*Special IMAX screening at Cinesphere
RISING STARS
This year's TIFF Rising Stars are: Daniel Doheny, Mary Galloway, Théodore Pellerin, and Ellen Wong.
"This diverse group of actors embodies the extraordinary charisma, motivation and dedication our emerging Canadian talent has to offer," TIFF artistic director Cameron Bailey said. "We are honoured to be able to provide these artists with the opportunity to showcase their talent to world through our Rising Stars programme."
Three of the Rising Stars will attend premieres of their films. Doheny stars in high school comedy Public Schooled with Judy Greer and Russell Peters. Galloway and Pellerin star alongside Shirley Henderson, Nicholas Campbell and 2016 TIFF Rising Star Jared Abrahamson in the family drama Never Steady, Never Still.
Wong broke out in Scott Pilgrim vs. The World and more recently recurred on Syfy's Dark Matter and will appear in the upcoming series Condor. She currently plays Jenny Chey aka Fortune Cookie on Netflix's show GLOW.
The TIFF Rising Stars will participate in specialised programming and events organised by TIFF's industry team, including seminars with casting directors, one-on-one meetings with filmmakers, media training, and a series of unique networking opportunities.
TELEFILM CANADA PITCH THIS!
The 18th consecutive year of the pitching session will see six teams take six minutes each to pitch their feature idea to a live audience of industry experts and a jury of development and production professionals.
The winning team will take home $15,000 to help bring their film project to life. The challenge will take place at Glenn Gould Studio on September 10 and is open to all press and industry delegates.
"We are proud to partner with Telefilm Canada once again on PITCH THIS!" TIFF industry director Kathleen Drumm said. "This lively competition was created to foster and support emerging filmmakers, and has proven one of the most popular programmes in the Conference schedule. We look forward to cheering on this year's contestants."
The 2017 finallists are:
12 Days, Jennifer Mesich, Tracey Deer;

Boring Girls, Coral Aiken, Hannah Cheesman;
Fall From The Sky, Dan Montgomery, Deragh Campbell, Kaz Radwanski;

Imposter, Adam Goldhammer, Evan Landry, Katie McMillan;

Nadia, Butterfly, Dominique Dussault, Pascal Plante; and
We Will Not Be Defeated, Andrew Nicholas McCann Smith, Dylan Reibling, Brian Robertson.
LEN BLUM RESIDENCY
Montreal filmmaker Anne Émond is the 2017 Len Blum Resident. Since 2015, the Len Blum Residency has provided one filmmaker each year with the opportunity to live and work at TIFF Bell Lightbox. The Residency is supported by Toronto-based filmmaker and distributor Ron Mann of Films We Like.
In October, Émond will take up a two-month residency at the Festival Tower when she will be mentored by Canadian screenwriter Len Blum, and receive support from TIFF's industry and film programming teams. Throughout her residency, Émond will have access to the full programme of films screened at TIFF Bell Lightbox.
She will work on two scripts: Jeune Juliette, a comedy about a chubby teenager who is oblivious to her size; and Monde Neuf, an apocalyptic drama about a group of nine young people who decide to resist the end of the world by changing their lifestyle.
Émond is an award-winning director who has made seven shorts and four features. Her latest film Nelly premiered at the festival last year.
"We are thrilled to welcome Anne Émond to our home in the heart of downtown Toronto," Drumm said. "TIFF has always worked to serve as a hub for emerging film artists, and the Residency enables us to elevate talent, to provide a supportive creative environment and to share our resources."
"The Len Blum Residency is an amazing opportunity for me," Émond said. "First of all, the chance to live in a cinema has always been a dream of mine, and I plan to catch at least one film a day during my stay! Also, to focus solely on writing for two months is exactly what I need right now. At this point in my career, I'm thinking more about working in English, so this time spent in Toronto writing and connecting with people from the industry comes at a perfect juncture."
In October 2017, TIFF will announce a new Residency opportunity for female feature filmmakers supported through the Share Her Journey campaign.
SHORT CUTS