Dir: Niki Caro. US. 2014. 129mins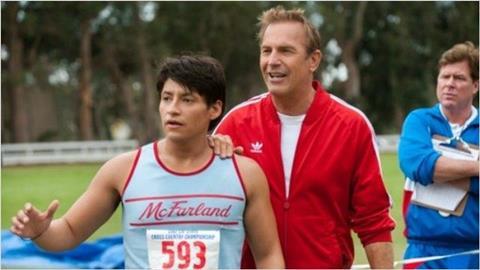 Well-meaning, emotional and lacking in any surprise, McFarland, USA demonstrates all the easy pleasures and lagging limitations of the feel-good, inspirational sports drama based on a true story. This smooth-running, familiar film pushes all the right buttons and earnestly says all the right things, and yet the utter conventionality of the endeavour consistently mutes whatever resonance director Niki Caro and star Kevin Costner bring to bear. Intensely likeable but largely forgettable, McFarland, USA risks nothing and, therefore, ultimately achieves little.
Caro shows a tastefulness that keeps the film's by-the-numbers narrative from ever becoming too saccharine or manipulative.
Set to premiere at the Santa Barbara Film Festival, McFarland, USA will cater to the sports-movie crowd when it opens February 20 in the US. Older viewers and Costner fans may be intrigued by this story of a white coach who led a team of Latino cross-country runners to glory in the late 1980s. Respectable reviews and strong word-of-mouth will be necessary for a Disney offering that doesn't feel that fresh from a marketing perspective, and the betting is that theatrical prospects will be modest, with cable and home video more favourable.
Set in 1987, the story finds disgraced, hard-edged football coach Jim White (Costner) moving his family (including wife Maria Bello) to McFarland, a small, impoverished town in the Central Valley of California, after being fired from yet another job. Hoping to make a fresh start and scared that he's run out of opportunities, White feels uncomfortable amidst McFarland's Spanish-speaking, Latino-heavy population. But once he notices how fast several of his high school students are, he decides to start a cross-country team, even though he has no experience with the sport.
Based on a true story, McFarland, USA is directed by Niki Caro (Whale Rider, North Country), a filmmaker with a skill for dramatising quiet, depressed communities. Not surprisingly, then, McFarland, USA is at its best when Caro uses the traditional sports-movie tenets as a springboard to examine McFarland, a poor city whose bleak prospects are encapsulated by the fact that the high school is right across the street from a large penitentiary. As soon as White begins viewing the Latino locals with suspicion near the film's start, we can guess that he'll eventually have a change of heart — just as easily as we can predict that he'll later be able to inspire his athletes to believe in themselves. But Caro works to make the clichés a little less obvious, immersing us in a culture of poverty, crime and limited economic options.
Costner brings a relaxed star presence to McFarland, USA, never overdoing White's initial suspicion or rah-rah speeches. As he gets older, Costner is learning how to do more with less, and the actor's restraint goes a long way toward suggesting that White isn't a heroic figure but, rather, a regular guy who saw a situation in which he could make a difference. This is the sort of role Costner can do easily, and he never strains for gravitas: He's a reliable, comfortable guide through this routine material.
White's seven-member running team includes a few first-time actors, but it's anchored by Carlos Pratts (Paranormal Activity: The Marked Ones), who plays Thomas, a moody, sensitive athlete whose incredible speed and endurance are tempered by a difficult family life. Indeed, all of White's team face hardships — whether in the form of economic anxieties or from long hours of picking cabbage in the hot sun — and that reality gives McFarland, USA added urgency. (These young men aren't just after a trophy: They're trying to escape dead-end lives.)
But Costner's supporting cast, with the exception of Pratts, aren't very memorable, tipping the balance toward White as the film's real hero. As a result, McFarland, USA, despite shedding light on the difficulties of the immigrant experience in America, ends up being too much like other inspirational films in which the white protagonist rescues the less-fortunate minorities around him. This imbalance is only exacerbated by the film's faintly patronizing attitude toward McFarland's Latino community: Quinceañeras and Mexican food are treated as exotic anthropological items that are endlessly baffling to White.
Those grumblings aside, McFarland, USA efficiently goes through the motions, with no outcome ever really in doubt. Caro shows a tastefulness that keeps the film's by-the-numbers narrative from ever becoming too saccharine or manipulative. When it's time for the audience to get a lump in the throat, she executes the moment with class and understatement. But the movie's programmatic nature robs the story of much spark. Plot complications show up just when they're expected, and character conflicts rear their head at the preordained times. McFarland, USA is a heartfelt drama about a group of underprivileged athletes, but the movie never outruns its own banality.
Production company: Mayhem Pictures
US distribution: Disney, www.movies.disney.com
Producers: Gordon Gray, Mark Ciardi
Executive producers: Mario Iscovich, Mary Martin
Screenplay: Christopher Cleveland & Bettina Gilois and Grant Thompson, story by Christopher Cleveland & Bettina Gilois
Cinematography: Adam Arkapaw
Editors: David Coulson
Production designer: Richard Hoover
Music: Antonio Pinto
Website: www.movies.disney.com/mcfarland-usa
Main cast: Kevin Costner, Maria Bello, Morgan Saylor, Martha Higareda, Michael Aguero, Sergio Avelar, Hector Duran, Rafael Martinez, Johnny Ortiz, Carlos Pratts, Ramiro Rodriguez, Danny Mora, Valente Rodriguez, Vanessa Martinez, Chris Ellis, Diana Maria Riva