Dir: Gus Van Sant. US. 2008. 128 mins.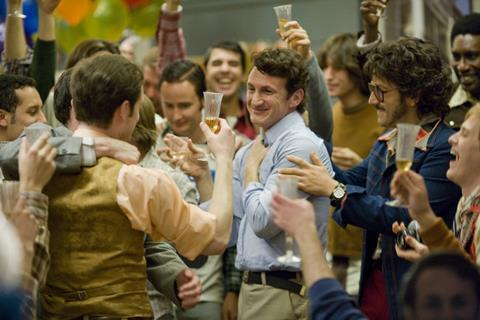 Gus Van Sant's most conventional film since Finding Forrester - but far superior - Milk is a briskly-told, warmly humanistic and stirring portrait of inspirational gay activist and politician Harvey Milk who was assassinated in San Francisco in 1978. Boasting a set of superb performances by a starry, largely male cast, the film will immediately win over liberal audiences and might make some inroads into a wider demographic, although its very specific focus on gay rights activism will turn off the crossover crowds who adopted Brokeback Mountain. Awards recognition for the film will keep it in the public eye.
Gay audiences worldwide will embrace Milk as perhaps the definitive Hollywood movie about the gay experience. Focusing more on the political struggles and successes of the man rather than dwelling intently on his personal life, Van Sant returns to a time in recent US history when right wing forces in America were actively campaigning against the civil rights of gay men and women. The controversial Proposition 8, which would allow gay marriage in California and is on the election ballot there this week, has attracted the ire of the same forces, making the film as timely as it could be.
Milk's life and death were the subject of an Oscar-winning 1984 documentary by Rob Epstein, and Hollywood has been flirting with making a feature of his life for years. Oliver Stone and Bryan Singer have both been attached to a film of Randy Shilts' biography Mayor Of Castro Street, with actors from Robin Williams to Daniel Day-Lewis to Steve Carell flirting with playing Milk. Van Sant himself was once attached to that project, but instead opted for this Dustin Lance Black screenplay which covers Milk's life from the ages of 40 to his death at 48.
The film is framed by scenes of Milk (Penn) dictating the story of his political life into a tape recorder in the event that he be assassinated. He first appears picking up a young man called Scott Smith (Franco) on the New York subway on his 40th birthday and taking him home. Milk is a closeted man, working for an insurance company, but the two decide to move to San Francisco. They set up a shop (Castro Camera) in the Castro neighbourhood, which would soon become one of the world's most famous gay havens.
Stunned by the police brutality and widespread prejudice against gays, Harvey becomes an outspoken advocate for the community. He enters the world of politics and, after losing several years in a row, is finally elected supervisor for the district. He successfully introduces a citywide ordinance protecting people for being fired because of their sexual orientation and leads the charge against the statewide referendum to fire gay schoolteachers.
Along the way, of course, he draws many enemies - numerous death threats from anonymous sources and a nemesis in another supervisor Dan White (Brolin) who will ultimately take his life.
The film is structured simply and chronologically through the eight years and up to the horrifying murders of Milk and Mayor Moscone by White for which he served only five years' jail time. Van Sant peppers the drama with real-life footage of the time, although only at the end does he show us moving images of the real people.
He also elicits great work from his actors. Penn gives one of the most likeable star turns of his career as Milk, a performance filled with passion, humanity and humour which should firmly lodge him in contention for best actor awards. Emile Hirsch is terrific as his young supporter Cleve Jones, Brolin fine as the damaged Dan White, Diego Luna appropriately shrill as Milk's unhinged lover Jack Lira and James Franco touching and strong as Scott Smith, who left Harvey when his career became all-consuming.
Just as engaging as the film's scenes of activism and protest is its evocation of time and place. From the awful hairstyles to the moustaches, the flairs to the ghastly blouses, Milk offers a delirious insight into San Francisco of the 1970s.
Production companies
Jinks/Cohen Company
Groundswell
Focus Features
Axon Films
US distribution
Focus Features
International sales
Focus Features International
+ 44 207 307 1330
Producers
Dan Jinks & Bruce Cohen
Screenplay
Dustin Lance Black
Cinematography
Harris Savedes
Production designer
Bill Groom
Editor
Elliot Graham
Music
Danny Elfman
Main cast
Sean Penn
Emile Hirsch
Josh Brolin
Diego Luna
James Franco
Alison Pill
Victor Garber
Denis O'Hare