DECEMBER 5 UPDATE: A lacklustre session saw Disney's animation retain top spot as Arrival continued its terrific run to climb to number three through Paramount and Jackie enjoyed an excellent debut through Fox Searchlight.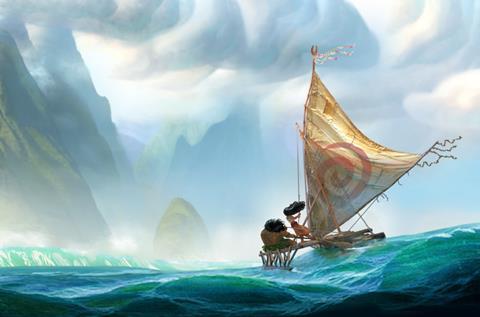 A further confirmed $28.3m for Moana in its second session elevated the tally to $119.8m after a 50.1% drop.
Holding firm at number two was Warner Bros' Fantastic Beasts And Where To Find Them, which added $18.1m for $183.1m after three weekends.
FilmNation, Lava Bear and 21 Laps' sci-fi Arrival expanded by 473 into 2,915 theatres through North American distributor Paramount, adding $7.3m for $73m in the fourth weekend. The film crossed $100m worldwide last week and now stands at $105.2m.
Jackie, Fox Searchlight's awards contender directed by Pablo Larrain starring Natalie Portman as Jackie Kennedy in the days immediately before and after the assassination of President Kennedy, scored an excellent debut.
The drama arrived at number 21 and grossed $278,715 from five venues.
Paramount's wartime thriller Allied starring Brad Pitt and Marion Cotillard stayed put in fourth place in its second session and fell 44.7% on $7m for $28.9m.
Hacksaw Ridge, the Second World War drama from Pandemonium Films, Permut Presentations and Cross Creek Pictures that stars Andrew Garfield, climbed two places to number seven in its fifth weekend and stands at a commendable $57.2m.
Horror title Incarnate opened in ninth place in 1,737 sites through High Top Releasing on $2.5m.
Heavyweight wards contenders Manchester By The Sea both fared well. The former climbed two places to number 11 in its third session through Amazon Studios' theatrical distribution partner Roadside Attractions and expanding by 108 to 156 venues. A $2.3m weekend boosted the early running total to $4.3m.
Moonlight held firm at number 14 in its seventh weekend through A24, adding $845,817 for $9.8m.
Two other strong awards candidates are also in the early days of promising box office runs. Loving swapped places withManchester By The Sea and amassed an early $5.6m after five weekends through Focus Features. Stablemate Nocturnal Animals at number 16 has grossed $2.7m after three sessions.
Sundance Selects launched Things To Come starring Sunday night's Los Angeles Film Critics Association's best actress winner Isabelle Huppert at number 44 on $33,090 from three sites. Freestyle Releasing opened family title Believe at number 17 on $477,387 in 639 theatres.
Warren Beatty's Hollywood period drama Rules Don't Apply tumbled 65.8% in its second session for a $3.3m tally and fell five slots to number 17.
Overall the top 12 combined for $87.6m, marking a 49.6% drop on last weekend and a 2.5% fall against the comparable session in 2015, when The Hunger Games: Mockingjay – Part 2 held on to pole position in its third weekend.
This week's wide release is Paramount's comedy Office Christmas Party with Jennifer Aniston, Jason Bateman, Rob Corddry and TJ Miller. EuropaCorp's Miss Sloane starring awards contender Jessica Chastain expands wide.
Confirmed top 10 North America December 2-4, 2016
Film (Dist) / Conf wkd gross / Conf total to date
1 (1)Moana (Buena Vista) Walt Disney Studios Motion Pictures International $28.3m $119.8m
2 (2) Fantastic Beasts And Where To Find Them (Warner Bros) Warner Bros Pictures International $18.1m $183.1m
3 (5) Arrival (Paramount) FilmNation $7.3m $73m
4 (4) Allied (Paramount) Paramount Pictures International $7m $28.9m
5 (3) Doctor Strange (Buena Vista) Walt Disney Studios Motion Pictures International $6.7m $215.5m
6 (6) Trolls (Fox) Fox International $4.7m $141.5m
7 (9) Hacksaw Ridge (Lionsgate) IM Global $3.3m $57.2m
8 (7) Bad Santa 2 (Broad Green Pictures) $3.3m $14.3m
9 (-) Incarnate (High Top Releasing) $2.5m –
10 (7) Almost Christmas (Universal) Universal Pictures International $2.5m $38.2m