Dir/scr: Katherine Dieckmann. US. 2009. 90mins.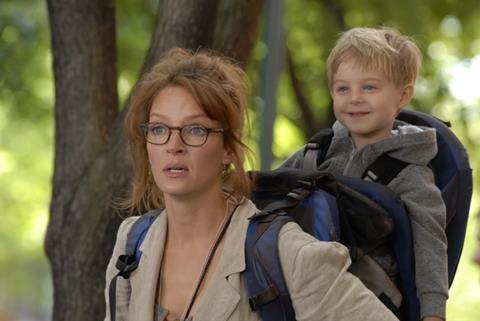 Uma Thurman's comedic talents talents are poorly evidenced and ill-served by the shrill tones of Katherine Dieckmann's new comedy Motherhood. Playing like a second-string Sex in the City or The Devil Wears Prada, this is an atypical project from John Wells Productions and Christine Vachon's Killer Films .
With Thurman in the lead, backed by a supporting turn from Minnie Driver and a peculiar cameo by Jodie Foster, the movie may attract some support with the urban female crowd, but seems destined for a quick move to ancillary thereafter.
Dieckmann's script unfolds in two parts. The opening section is marked by a nastiness which largely cancels out the more relaxed and satisfying closing passages. Thurman plays Eliza, a children's blog writer who's desperately struggling to juggle her work with managing her two young children and starry-eyed husband (Edwards).
The story is structured around two significant events: her daughter's approaching sixth birthday and writing a 500-word essay for a parenting magazine in time to be considered for a potentially lucrative job. The opening sections are shaped around Eliza's encounters with a group of deeply neurotic and harsh New Yorkers steeped in class envy, social grievance and entitlement. The exchanges are uniformly cruel and bitter. Attempts to introduce some wilder energy, or alter the mood, with references to Sept. 11 or the sexual desperation of Eliza's best friend Sheila (Driver) also seem to fall flat.
The movie has one excellent flirting sequence between Eliza and a handsome young messenger service clerk (Gupta). The scene has the kind of colourful writing and subtle interplay which the rest of the movie sorely lacks. It also inadvertently points out an error in Dieckmann's script, when Eliza laments how her family responsibilities have crippled her promising literary career - conveniently overlooking the fact that some 15 years passed between the character's college graduation and the birth of her first child.
Thurman gives a poorly-conceived character some flair and bounce, but there also seems to be a buried contempt for those to whom she feels superior. Those attitudes, combined with the character's high self-regard - imagining herself to be the first woman in history charged with being a woman, mother and professional simultaneously - leads one to wonder finally whether the lady doth protest too much.
Production companies
John Wells Productions
Killer Films
Ideal Production Film Fund
International sales
Kimmel Entertainment
Producers
Christine Vachon
John Wells
Pamela Koffler
Jana Edelbaum
Rachel Cohen
Cinematography
Nancy Schreiber
Production design
Debbie De Villa
Editor
Michael R. Miller
Music
Joe Henry
Main cast
Uma Thurman
Minnie Driver
Anthony Edwards
Daisy Tahan
Alice Drummond
Clea Lewis
Arjun Gupta