Screen brings you a selection of this year's music awards contenders.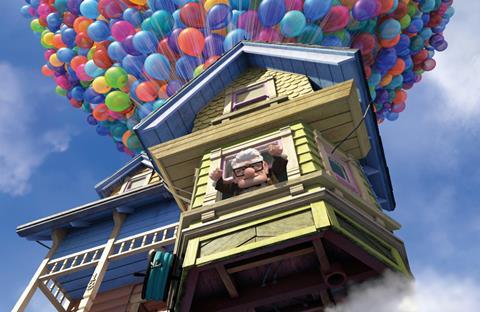 Michael Giacchino Original score, Up
One of the most memorable elements of Pete Docter's Up is Michael Giacchino's lovely score, which features a melancholy main theme that recurs throughout the film. It is called Ellie's Theme, after a character who dies 10 minutes into the drama, leaving the lead character Carl bereft.

"What we needed was to keep the character of Ellie alive throughout the movie," explains Giacchino. "She is a main character but dies early on, leaving Carl to come to terms with her passing. The film is really about how he deals with it and moves on from there. So I needed to create a musical character that was essentially her spirit." The theme starts with a simple piano interpretation when they meet as children, and grows "to a more heroic version at the end".

After abandoning an early version of Ellie's Theme because "it didn't feel like the movie", Giacchino tried again. "I thought about growing old and I had this idea and went to the piano and came up with something which felt like the movie. Normally I would write it down but on this occasion I decided that if I could remember it the next day, that would be the theme.

The next morning, it snapped back into my head." Giacchino treats animation exactly as he would live action, saying, "I don't like it when people think the music should be more busy in animation. It makes no difference if the character is James T Kirk [referring to his score for this year's Star Trek] or a rat. It's about working with the characters and emotions. You want to avoid Mickey Mouse-ing, an expression we use when you are tracing every moment."
By Mike Goodridge
It is the simplicity Jason Reitman demands from scores that Rolfe Kent finds particularly gratifying. The pair worked together on Thank You For Smoking and reunited on Up In The Air, delivering a subtle musical accompaniment that explores emotional hues that lie between the poignant and jaunty extremes of the film.

"He has a very clear role for the music," says Kent. "It's a gift to a composer to have a director who makes you be simple. Jason's great at knowing what constitutes clutter. He gets it and helps me pull back."

Kent is never shy about introducing "eccentric instrument choices" and in Reitman's new drama, sharp-eared listeners may recognise the soulful yearning of an erhu, the Chinese violin, as well as a percussive African clay instrument called an udu pot, and a type of electric violin tuned one octave below that of a standard violin. Kent was similarly experimental on Grant Heslov's The Men Who Stare At Goats, throwing a tamboura, guitars and a full orchestra into the mix. He even used the sound of fingers tapping a hard surface. "Grant has a very eclectic approach," he says.

The score for Heslov's film brims with intrigue and while it remains fundamentally Western in tone, there are discernible references to the Middle East.

For the so-called Jedi warriors [the characters played by Jeff Bridges and George Clooney], Kent was keen to echo the heroic themes of Ennio Morricone's scores. But those eccentricities kept creeping back in. "I'm a great believer in hit and miss. How will you know what it sounds like to throw a bag full of forks down a staircase until you've tried?"

By Jeremy Kay
Original Music Score Other contenders
9 Deborah Lurie and Danny Elfman
Amelia, Gabriel Yared
Avatar, James Horner
Bright Star, Mark Bradshaw
Broken Embraces, Alberto Iglesias
Cheri, Alexandre Desplat
Coraline, Bruno Coulais
Crazy Heart, Stephen Bruton and T-Bone Burnett
Disney's A Christmas Carol, Alan Silvestri
The Imaginarium Of Doctor Parnassus, Mychael Danna and Jeff Danna
The Informant!, Marvin Hamlisch
Invictus, Kyle Eastwood and Michael Stevens
Julie & Julia, Alexandre Desplat
The Lovely Bones, Brian Eno
Moon, Clint Mansell
Ponyo, Joe Hisaishi
The Princess And The Frog, Randy Newman
Public Enemies, Elliot Goldenthal
The Road, Nick Cave and Warren Ellis
A Serious Man, Carter Burwell
Sherlock Holmes, Hans Zimmer
A Single Man, Abel Korzeniowski
Taking Woodstock, Danny Elfman
The Twilight Saga: New Moon, Alexandre Desplat
Where The Wild Things Are, Karen O and Carter Burwell
Paris-based Alexandre Desplat had scored one animated film before Fantastic Mr Fox, in A Monkey's Tale, as well as 130 episodes of animated television. "It does offer different challenges to live action," he says. "You have no sound, just the voices, and you have to create everything from scratch."
In initial discussions, Desplat suggested to director Wes Anderson that they imagine the puppets as a band and come up with ideas of what each would play in the band.
"What instruments would they pluck with their little fingers, what wind instruments would they blow? So we came up with instruments like glockenspiel and mandolin and piccolo recorder and Jew's harp." Desplat also decided that instead of a whole string orchestra, he would use a five-string quintet and use only one of each brass instrument.
"Otherwise it would have drowned out what was on screen. In New Moon [another Desplat score this year], we had big romantic passions and oceans and landscapes on screen so I could use a whole orchestra, but the scale was so different." Each instrument had an association with a character, he explains.
The bras belonged to the farmers, the mandolin and banjo to Mr Fox and the recorder and glockenspiel to the two boys, Ash and Kristofferson. The Jew's harp, banjo and other quirky instruments were used for the chase and plotting sequences.
Desplat also recorded a choir of boys between the ages of eight and 12. "I wanted a tiny, gentle, childlike sound," he explains. Meanwhile it helped the process that Anderson lives in Paris, just three blocks from Desplat's studio. "It was very convenient. Much easier than Malibu," he says.

By Mike Goodridge
Original song The main contenders
All Is Love (Where The Wild Things Are) Karen O and Nick Zinner, music and Karen O, lyrics
Almost There (The Princess And The Frog) Randy Newman, music/lyrics
Cinema Italiano (Nine) Maury Yeston, music/lyrics
The Climb (Hannah Montana: The Movie) Jessi Alexander and Jon Mabe, music/lyrics
Colorblind (Invictus) Daniel Po, music/lyrics
Down In New Orleans (The Princess And The Frog) Randy Newman, music/lyrics
George Simmons Soon Will Be Gone (Funny People) Adam Sandler, music/lyrics
God Bless Us Every One (Disney's A Christmas Carol) Alan Silvestri and Glen Ballard, music/lyrics
Help Yourself (Up In The Air) Sad Brad Smith, music/lyrics
Hideaway (Where The Wild Things Are) Karen O and Imaad Wasif, music and Karen O, lyrics
I Can See In Colour (Precious: Based On The Novel Push By Sapphire) Raphael Saadiq, music and Mary J Blige and LaNeah Menzies, lyrics
I Want To Come Home (Everybody's Fine) Paul McCartney, music/lyrics
I Will See You (Avatar) James Horner and Simon Franglen, music and Horner, Franglen and Kuk Harrell, lyrics
Invictus 9,000 Days (Invictus) Clint Eastwood and Michael Stevens,music and Dina Ruiz Eastwood and Emile Welman, lyrics
Never Knew I Needed (The Princess And The Frog) Randy Newman,music/lyrics
Only You (The Young Victoria) Ilan Eshkeri, Scott Shields, Nikki Hassman and Pamela Sheyne, music/lyrics
Smoke Without Fire (An Education) Duffy, music and Duffy and Bernard Butler, lyrics
Take It All (Nine) Maury Yeston, music/lyrics
Time For Miracles (2012) Alain Johannes and Natasha Shneider, music/lyrics
The Weary Kind (Crazy Heart) Ryan Bingham and T-Bone Burnett, music/lyrics
Winter (Brothers) U2, music and Bono, lyrics
You've Been A Friend To Me (Old Dogs) Bryan Adams and Gretchen Peters, music/lyrics
You've Got Me Wrapped Around Your Little Finger (An Education) Beth Rowley, music and Rowley and Ben Castle, lyrics