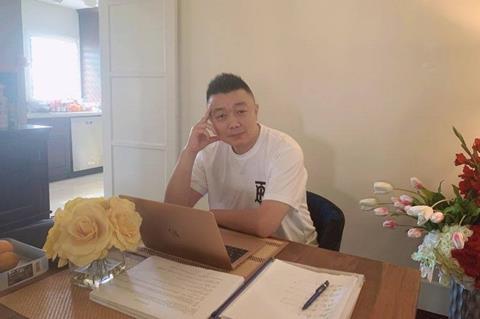 Peter Luo is founder and CEO of Beverly Hills and Hong Kong-based Starlight Media, the producer-financier behind Crazy Rich Asians that is becoming increasingly active in Hollywood.
Luo has established deals with leading US talent such as Robert Zemeckis, Sam Raimi, James Wan, F. Gary Gray, Roland Emmerich, Jon Chu, and Sylvester Stallone.

Starlight recently set up a multi-million dollar fund to back emerging female and BIPOC filmmakers. Luo's executive producer credits include Marshall, Midway, and ScaryStoriesToTell In The Dark.

Where are you currently residing and what is life like for you right now?
My home is in Beverly Hills and this is where I'm still working, nearly eight months since stay-at-home orders were instituted throughout Los Angeles and most of California. As things stand now, barring any new setbacks, we plan to reopen the Starlight Media office, which is also in Beverly Hills, in November. We will of course have the necessary safety measures and protocols in place.
How do you communicate with your colleagues?
You name it, we use it. Call, text, video chat, email – all the communication channels keep us closely connected throughout the day… Nothing can replace in-person interaction in a business setting.
What's the mood like at Starlight?
The mood at Starlight has been energetic and upbeat throughout this pandemic, and the collective resiliency of the team is easily seen.
You announced the ambitious umbrella plan. How has the pandemic affected that and what projects are coming up?
The pandemic, coupled with the social and racial injustice movement that ignited this summer, has actually accelerated our global plan for diversifying content and promoting minority and underrepresented voices in film and television. The confluence of powerful events has made the industry look inward at itself, and what is being discovered is that more diversity is needed – across the board. This excites us because our number one mission is to be a catalyst for the diversity movement and help push the industry in the direction it needs to go, globally.
What have you managed to produce this year and what are the priorities in 2021?
We've been busy with several films this year. These include the documentary Wuhan! Wuhan!, which is directed by Yung Chang and produced alongside Donna Gigliotti, Donnie Yen and Diane Moy Quon; the supernatural horror film Umma with Sony and Sam Raimi which is just starting production; and James Wan's Malignant (for New Line), which is now is post-production.
As we look ahead to 2021, we'll remain focused on developing projects with the remarkable group of A-list directors we have deals with, while also expanding our "Stars Collective' programme that supports young, emerging directors.
What's your next project to go and where will it shoot?
We are happy that Umma is now shooting. This is Starlight's first project through our development deal with Sam Raimi. Umma is the first studio horror film written and directed by a Korean-American woman (Iris K. Shim) and starring a Korean-American Actress (Sandra Oh). Sony Pictures' Stage 6 Films has worldwide rights. Umma, which is the Korean word for "mother," follows Sandra Oh's character and her daughter living a quiet life on an American farm, but when the remains of her estranged mother arrive from Korea, Amanda becomes haunted by the fear of turning into her own mother.
How's the horror Malignant coming along? When can we expect to see that?
We're in post-production now on Malignant and really loving what we see. No release date has been set yet…. All we know is that when Malignant does get released, whenever that may be, and audiences are able to experience the film, they will be very happy with what they see.
You've got so much going on. Tell us about the multi-million dollar film and talent development initiative Stars Collective.
Our new Stars Collective program is an initiative we are very proud of and something that will be a main focus for the next couple of years… Never has there been a better moment to lean into the future of global storytelling, and by that I mean diverse voices crafting, telling and sharing the stories that audiences globally will embrace… We hope to work with talented young/upcoming filmmakers and help them to reach their dreams and make changes… It is also my dream to start a film revolution and show audiences the different voices, cultures, and new ways of storytelling.
What have you most enjoyed watching, reading or listening to during this time?
I've really enjoyed watching Korean television series like Legend Of The Blue Sea and Flower Of Evil. They are quite gripping and I highly recommend to anyone who has not watched them.
What has most surprised you about yourself during this challenging year?
First and foremost, I have a heightened sense of appreciation for so much my life, personally and professionally. Through all this, my personal takeaway is a realization that what I've done in the past doesn't really matter. It's what I do in the days, weeks, months and years ahead that matter most to me and inspire me a great deal.
You produced Marshall. What are you favourite memories of the late, great Chadwick Boseman?
Mr. Boseman was such a remarkable man, and will always be missed, but his impact and legacy live on forever. He was just that special of a human being. We met several times on set and I still remember how professional, humble, and warm he was. I had no idea he was fighting cancer at the time, none of us knew – he was just a very strong man and a fighter. His passing is a devastating loss for the film industry. I still think of him and his family.
What is the first thing you will do when there is a widely available vaccine and life returns to some kind of normal?
This is easy. I will visit my daughter in Australia, and father in China. Spending time with family and loved ones is precious and you just can't replicate the bond, energy and feelings of family interactions through video chats.
What positive change might the pandemic bring to the industry?
Disruption will be fully embraced by all – and this is a good thing. The entertainment industry must be dynamic and able to shift, pivot and evolve at the same rate as technology and social movements in the world.