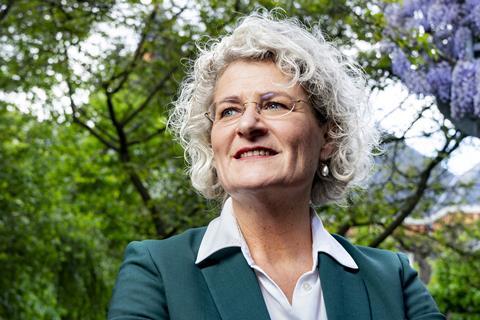 Doreen Boonekamp is to stand down in October after a decade as CEO of the Netherlands Film Fund, it was confirmed in Cannes this week.
Speaking exclusively to Screen International, the Fund head reflected on her ten year stint at the Fund during a period of seismic change in the Dutch industry. When she took over, the Dutch economy was reeling in the wake of the 2008 financial crisis, there was a steep decline in both public and private financing for film, and the government had made it very clear that the arts (including cinema) were a very low priority.
Boonekamp managed to stabilise and grow the sector. Her policy from the start was to look outward.
"We are a small country and we really felt the need to make the shift to collaborate internationally," Boonekamp commented of a period which has seen the Dutch strike several new coproduction treaties (with Germany, South Africa, Wallonia and China); work closely with Eurimages and encourage foreign production to come to the Netherlands. The Dutch have also increased their collaboration with the UK, partnering on such projects as Sacha Polak's Dirty God and Elbert van Strien's Marionette.
The launch of the Film Production Incentive during the Cannes film festival 2014, after a period of intensive negotiations, had an immediate and transformative effect on the local industry. In 2017, this was extended high-end TV series. The Netherlands Film Commission under Bas van der Ree was also set up in 2014 and such high profile films as Christopher Nolan's Dunkirk and John Crowley's The Goldfinch have used it.
Dutch presence at the leading international film festivals like Cannes and Venice had been thin for many years but during Boonekamp's time at the fund, the Dutch had a title in the Cannes competition (Alex van Warmerdam's Borgman in 2013)) for the first time in 38 years. Dutch titles also surfaced in Venice and Berlin.
Boonekamp placed a strong emphasis on nurturing new talent, setting aside €4.5 million for script and project development for features, documentary, animation and immersive storytelling. She also made sure that producers' network ACE set up in Amsterdam.
Local market share hasn't grown as quickly as might have been hoped in recent years. It has rarely risen above 15% during Boonekamp's tenure and was at 11.2% in 2018. However, as Boonekamp pointed out, more international films are being released in Dutch cinemas. Around 480 films were released last year. "There is pressure of a huge number of title," she said. "The mainstream Dutch film didn't manage to stand out."
Speculation is mounting as to who might succeed Boonekamp as head of the Fund. The appointment is expected to announced later this summer.