Stone's earnings came in ahead of Jennifer Aniston and Jennifer Lawrence on Forbes' annual list of Hollywood's top earners.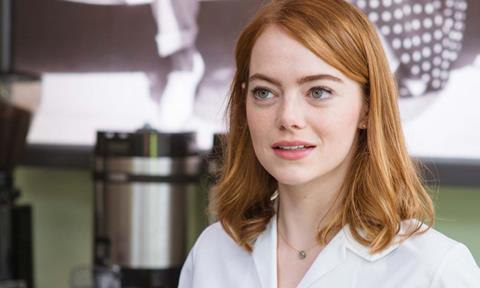 At 28 years old, Emma Stone has been named as this year's highest-paid actress, taking home $26m in the last 12 months.
Stone earned the bulk of her earnings from her portrayal of Mia in La La Land, which earned her an Oscar for best actress. The film has grossed more than $445.3m worldwide.
Stone spoke out against the gender pay gap in Hollywood, revealing in an interview with Out Magazine that some of her male co-stars have taken pay cuts to ensure parity. Stone will next be seen alongside Steve Carell in upcoming film Battle Of The Sexes.
Jennifer Aniston comes in a close second, earning $25.5m in the last 12 months. While Aniston continues to star in films regularly, like Office Christmas Party and The Yellow Birds, the majority of her earnings come from endorsing brands like Emirates airlines, Smartwater and Aveeno.
Jennifer Lawrence, last year's number one, is in third place with $24m; just over half her 2016 total. Without a Hunger Games movie, the majority of her earnings came from smaller films, such as Darren Aronofsky's horror Mother!, Red Sparrow, and an endorsement with Dior.
In 2015, hacked Sony documents showed Lawrence was paid less than her male co-stars Christian Bale and Bradley Cooper on American Hustle.
Melissa McCarthy brought in $18m for fourth place, while Mila Kunis rounds out the top five with $15.5m.
Emma Watson is this year's sole newcomer after her starring role in Beauty And The Beast, which grossed more than $1.26bn worldwide. Watson is followed by Charlize Theron, Cate Blanchett, Julia Roberts and Amy Adams.
2017 saw three women surpass the $20m mark, down from four last year.