The producers of troubled crime-thriller London Fields have filed a breach of contract cross-complaint against the film's director Mathew Cullen.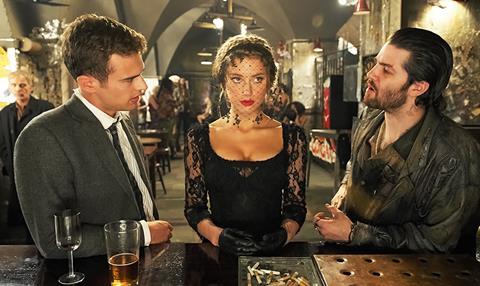 The complaint, filed on Nov 18 in Los Angeles Superior Court, alleged that Cullen "failed to deliver London Fields on budget and on time or at all despite significant deadline extensions" and that he "also breached his contract by failing to promote the producer's cut of the film".
Cullen initially filed a lawsuit against the producers three days prior to the film's premiere at the Toronto International Film Festival (TIFF), alleging that the producers significantly and secretly altered the film without his consent.
The Sept 18 premiere was subsequently cancelled.
The producers' cross complaint also flags what it calls "Cullen's intentional interference with the contracts of cast members of the film, encouraging them not to perform post-production and promotional services, jeopardizing the distribution and sales potential" at TIFF.
The film's producer Chris Hanley (American Psycho) stated: "This case symbolizes a real sad turn in the culture of independent cinema.
"With decades of filmmaking and 40 films below my producer's belt, I am witnessing how the new media and independent movie making is taking its cues right out from the studio system it purports to be independent of, where media and festivals are made vulnerable to, and in many cases are bought out by pure Hollywood power, and where Law takes place in the media like a new form of entertainment.
"As an individual producer and through my production company MUSE we have always been devoted to discovering and putting new talent on the map. We love the London Fields movie. The actors delivered amazing performances. We're moving forward with world distribution of the movie."
According to Cullen's initial lawsuit, the producers inserted elements into the film that included "imagery evoking 9/11 jumpers edited against pornography, as well as juxtaposing the holiest city in Islam against mind control".
Cullen's lawsuit claims that the producers breached their agreement by refusing to pay him full compensation, refusing to provide three cuts and three public screenings of the film and by refusing to produce the picture as a DGA film.
He also contends that they failed to provide the funding to properly produce the film.
Cullen's legal representative could not be reached at time of publication.
Set in 1999 London, noir crime thriller London Fields is based on Martin Amis' 1989 novel of the same name and features a cast including Billy Bob Thornton, Amber Heard, Jim Sturgess and Cara Delevingne.
Heard plays clairvoyant femme fatale Nicola Six, who lives with a dark premonition of her impending death by murder. She begins a tangled love affair with three different men: one of whom she knows will be her murderer.
The film is a Hero Entertainment/Muse Productions/Media Talent Group/Lipsync production. Geyer Kosinski also produced the feature.