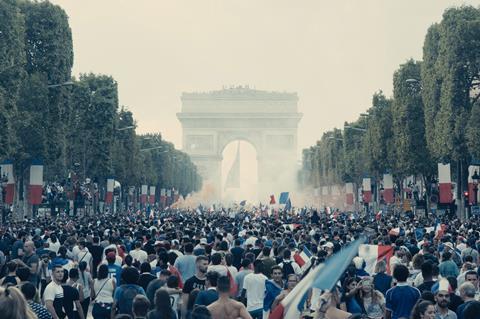 Wild Bunch has boarded sales on zeitgeisty drama Les Misérables, the directorial debut of filmmaker Ladj Ly, a long-time collaborator of French street artist JR, whose work focuses on the tough eastern suburbs of Paris where he grew up.
Inspired by the 2005 riots in the notorious Clichy-sous-Bois and Montfermeil suburbs east of Paris, Les Misérables revolves around three members of an anti-crime brigade who are overrun while trying to make an arrest.
"It's a challenging, exciting title for us," says Wild Bunch sales chief Eva Diederix.
The film develops Ly's short of the same name which was nominated for a César in 2018. Actors Damien Bonnard (Staying Vertical), Alexis Manenti and Djebril Zonga reprise their roles for the feature.
Up and coming production company Srab Films – which was recently involved in Netflix commission Banlieusards, a suburbs set-drama directed by and starring Kery James - lead produces with Rectangle Productions on board as a co-producer.
The title Les Misérables spins off Victor Hugo's 1862 classic and draws on the fact that Montfermeil was the inspiration for some of its locations. Some 150 years later, Ly draws parallels between Hugo's streets kids and the hooded youth who roam its streets today.
Ly, who grew up on the Montfermeil estate of Les Bosquets, has been capturing life there for the past 20 years, making documentaries such as 365 jours Clichy-Montfermeil and Go Fast Connection and also working with JR on his project Portrait Of A Generation.
He was also a founder of the filmmaking collective Kourtrajmé, with Kim Chapiron and Romain Gavras, and the support of Vincent Cassel and Mathieu Kassovitz.
New titles, eclectic slate
Les Misérables is among 11 upcoming titles Wild Bunch will be focusing on at the EFM.
"They're all strong films. What's interesting is the mix. We're working flat out on films from Russia and China as well as strong French titles," said Diederix.
New additions include Beanpole, the second film from Russian director Kantemir Balagov, whose kidnap drama Closeness, won the Fipresci Prize in Cannes in 2017 where it premiered in Un Certain Regard.
His new drama is set in post-World War Two Leningrad and follows two women as they attempt to rebuild their lives amid the ruins.
It is produced by Sergey Melkumov's Non-Stop Production, which produced Andrey Zvyagintsev's Leviathan and Loveless.
Wild Bunch is also selling a second Non-Stop Production, The Fisherman's Daughter, the feature debut of Azerbaijani director Ismail Safarali.
Set against the backdrop of a fishing village on the Caspian Sea, it follows a young woman who refuses to believe her fisherman father is dead following his mysterious disappearance.
Continuing its long relationship with China, the company has also recently boarded Where It Begins, the directorial debut of cinematographer Zhao Fei, best known for his work on Raise The Red Lantern and a trio of Woody Allen films: Sweet And Lowdown, Small Time Crooks and The Curse Of The Jade Scorpion.
The story revolves around former students of a small town high-school somewhere in northern China, who were caught up in an incident at an athletics competition in the 1990s and then meet up 20 years later with old friendships and rivalries still running deep.
Award-winning screenwriter Li Qiang, whose credits include Ann Hui's The Golden Era, wrote the screenplay. Wild Bunch will show a trailer for the film.
Cannes hopefuls
The company will also continue sales on a slew of previously announced features with Cannes potential including Ken Loach's social drama Sorry We Missed You, Arnaud Desplechin's crime tale Oh Mercy and Kore-eda Hirokazu's French-language debut The Truth.
Starring Catherine Deneuve as an overbearing star opposite Juliette Binoche as her long-suffering daughter, The Truth is being tipped by some Cannes Film Festival forecasters as a potential opening film.
Wild Bunch will also a show a new promo-reel for Rebecca Zlotowski's female sexual empowerment tale An Easy Girl, starring French glamour girl Zahia Dehar, and the first teaser for Tom Waller's The Cave.
There is strong buyer buzz on the latter title, about last year's true story of 12 Thai boys who spent 10 days trapped in a flooded mountain cavern and were then freed in a daring rescue mission.
"It's the first film about the drama, we have strong expectations," says Diederix.
Another topical title on the slate, she adds, is Edouard Bergeon's rural France-set drama In The Name Of The Land. Berlinale Silver Bear winner Anthony Bajon stars as a man recalling the life-long struggles of his farmer father, played by Guillaume Canet. It is produced by long-time Wild Bunch partners Nord-Ouest Films and Diaphana has acquired French rights.
"We'll be showing first images for the film. It's an important subject right now. There' been a lot in the French media about rising bankruptcies and suicide rates among farmers."
The company will also market premiere Brian Welsh's tribute to the UK's illegal rave scene of the early 1990s, Beats, following its festival outings at Rotterdam and Slamdance, and Peter Grönlund's brooding social drama Goliath, which won four awards, including best actor for Joakim Sällquist and best screenplay, at Sweden's Guldbagge Awards on Jan 29.