The Australian box office chart was dominated by Hollywood blockbusters.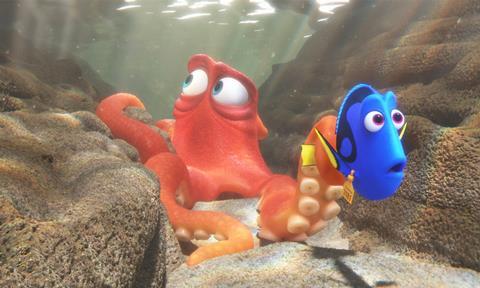 Australians are continuing to flock to the cinemas, with annual box office data indicating that 2016 was another record-breaking year for movie distributors.
The Motion Picture Distributors Association of Australia (MPDAA) revealed this week that the 2016 annual gross revenue totalled USD $951,000,928 with takings up 2.69% on the previous record-setting 2015.
The top film of 2016 was Pixar's Finding Dory, which closed 2016 at $36m, having bettered the $27m taken in 2003 by its predecessor, Finding Nemo. Deadpool came in second place, with $32m. The mid-December release of Disney's Rogue One: a Star Wars Story earned it third place, with $27m in the final 2 weeks of the year. Suicide Squad overcame its universally bad reviews to finish with $25.8m, closely followed by Captain America: Civil War ($25.4) and Fantastic Beasts and Where to Find Them ($23.5m). The top 10 was rounded out by Star Wars: the Force Awakens ($23.5m), The Jungle Book ($2.4m), Batman V Superman: Dawn of Justice ($22.4m), and The Secret Life of Pets ($22.3m).
The three Australian documentaries released into cinemas in 2016 were all directed by woman, and each landed on the list of top grossing Australian documentaries (excluding IMAX): Jen Peedom's BAFTA-nominated Sherpa took $960k to earn third spot; Taryn Brumfitt's body image advocacy film Embrace made $830k to sit at number 5, and Eva Orner's AACTA Award winning politically-charged story, Chasing Asylum, took $434K, and now sits in eighth position.
The overall domestic box office dipped in 2016, in the wake of a record-breaking 2015. Whereas home grown hits such as Mad Max: Fury Road and The Dressmaker helped local films to account for 7.1% of the overall 2015 box office, the picture was remarkably different in 2016, when no Australian film was able to break the 10m Australian dollar mark.
Total takings were $18m – or a 1.9% share, with the best performing local film, Mel Gibson's Oscar-nominated, Australian made and agency funded Hacksaw Ridge, taking $6.4m. Red Dog: True Blue – a sequel to the hit 2011 family-friendly Red Dog – fell well short of its predecessor's $15m; True Blue is currently sitting at $5m in its fourth week of release, in the final days of the Australian summer school holidays.
Looking ahead, 2017 has already started strong for local films, with Garth Davis' Australian-produced best film Oscar nominee Lion taking $3.78m in its opening weekend – the stellar result marks the fifth biggest opening weekend ever for a local production (behind studio fare The Great Gatsby, Australia, Happy Feet and Mad Mad: Fury Road).
TOP 10 FILMS OF 2016
As of 31 December 2016.
1. Finding Dory (WALT DISNEY) - $36,669,521
2. Deadpool (FOX) - $32,672,931
3. Rogue One: A Star Wars Story (WALT DISNEY) - $27,479,528
4. Suicide Squad (WARNER BROS) - $25,882,494
5. Captain America: Civil War (WALT DISNEY) - $25,474,219
6. Fantastic Beasts And Where To Find Them (WARNER BROS) - $23,563,477
7. Star Wars: The Force Awakens (WALT DISNEY) - $23,521,684
8. The Jungle Book (WALT DISNEY) - $22,492,006
9. Batman V Superman: Dawn Of Justice (WARNER BROS) - $22,411,825
10. The Secret Life Of Pets (UNIVERSAL) - $22,320,450