Sony's sequel launches with second biggest R-rated comedy debut at $60m; Fox's How to Train Your Dragon 2 flies in with $50m.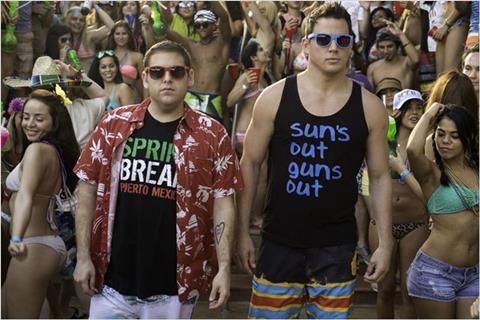 22 Jump Street has clipped the wings of How to Train Your Dragon 2 at the US box office to debut in top spot.
Sony's comedy sequel launched with $60m from its 3,306 sites to record the second biggest debut for an R-rated comedy, behind The Hangover Part II's $85.9m. The debut is almost double that of 21 Jump Street, which landed with $36.3m on its way to $138.4m overall.
Despite not debuting top, Fox's How to Train Your Dragon 2 still flew in with a solid $50m bow from its 4,253 sites.
That's up on the $43.7m debut from its predecessor and is also ahead of $39.3m opening of the year's other recent animated sequel, Rio 2. The Lego Movie remains 2014's strongest animated debut at $69.1m.
Last week's champion The Fault in Our Stars fell a hefty 67% in its second weekend to add $15.7m for a healthy $81.7m to date through Fox, while Disney's Maleficent conjured up a further $19m for $163.5m after three weeks in play.
Warner Bros' Edge of Tomorrow at least put in a solid hold, dropping 44% to follow up its uninspiring debut with $16.2m and a ten-day tally of $56.6m.
Adding $9.5m this weekend, Fox's X-Men: Days of Future Past has become the third film of the year to cross the $200m mark. X-Men: The Last Stand is currently the best performer of the series domestically with $234.4m.
In terms of limited releases, A24's Cannes title The Rover opened with $70k in five venues for a $14k average. That's up on the $62k bow from seven sites for David Michôd's debut feature Animal Kingdom.
Also for A24, Obvious Child expanded to 18 sites and boosted 88% to add $145k for $263k so far.
Released in two sites through Samuel Goldwyn Films and Participant Media, Sundance title Ivory Tower grossed $17k and will expand to Boston, Washington DC and San Francisco next weekend, with future openings throughout June and July.
Sci-fi The Signal opened to a soft $146k from its 120 sites through Focus, while IFC's Hellion and Music Box's A Coffee in Berlin took $9k and $4,100, respectively, from one site.
Next weekend's wide releases are Warner Bros' jukebox musical Jersey Boys and Sony's sequel Think Like a Man Too.
A24's The Rover expands nationwide, while IFC's Venus in Fur and Music Box's The Last Sentence are among the films receiving a limited release.
Estimated Top 10 North America June 13-15 2014
Film (Dist) / Est wkd gross / Est total to date
1 (-) 22 Jump Street (Sony) $60m –
2 (-) How to Train Your Dragon 2 (Fox) $50m –
3 (2) Maleficent (Disney) $19m $163.5m
4 (3) Edge of Tomorrow (Warner Bros) $16.2m $56.6m
5 (1) The Fault in Our Stars (Fox) $15.7m $81.7m
6 (4) X-Men: Days of Future Past (Fox) $9.5m $205.9m
7 (6) Godzilla (Warner Bros) $3.2m $191.3m
8 (5) A Million Ways to Die in the West (Universal) $3.1m $36.9m
9 (7) Neighbors (Universal) $2.5m $143.1m
10 (9) Chef (Open Road) $2.3m $14.1m