Theatrical releases can still work for documentaries, argued the Doc/Fest panel.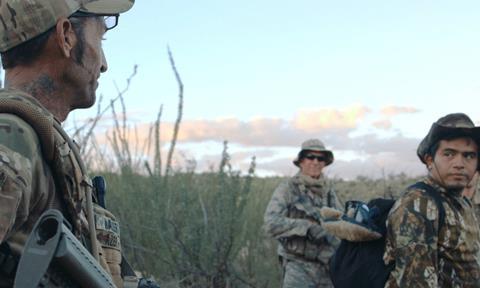 In a panel at Sheffield Doc/Fest, experts from the American documentary sector said Netflix or Amazon are not always the best options for releasing documentary features.
The panellists were: Ben Braun from New York-based production, distribution and sales agency Submarine, Marie Nelson from PBS, Simon Chinn from London and LA-based production company Lightbox, Molly Thompson from A&E IndieFilms and Mark Leaver from department for international trade.
Thompson said she was proud that A&E IndieFilm partnered with theatrical distributors for projects like The Imposter, Cartel Land (pictured) and Matthew Heineman's follow-up City of Ghosts (screening at Doc/Fest) before their respective VOD and television premieres.
"I have seen great films that went on SVOD immediately, and they disappeared quickly. How many people actually saw Nina [Simone] or 13th in theatres? I think that is a shame," said Thompson.
Nelson from PBS said Stanley Watson's film The Black Panthers: Vanguard of the Revolution was another example of this dual release strategy. It was released in 60 cities before airing as part of PBS' Independent Lens programme.
"This demonstrates [that] when done in the right way – [theatrical distribution] is the perfect complement to broadcast. The show went on to be one of our highest rated programmes," said Nelson.
Similarly, the broadcaster helped develop Raoul Peck's I Am Not Your Negro for four years before working with distribution and streaming partners Magnolia Pictures and Amazon to give the film a cross-platform release.
Simon Chinn said his company Lightbox were exploring new models including episodic content such as Captive that was co-created with Doug Liman. The eight-part series aired on Netflix last year.
He also highlighted their most ambitious feature doc to date, LA riots doc LA 92, which was fully financed by National Geographic. The film premiered at Tribeca, had an awards qualifying theatrical release and was broadcast on National Geographic.
"Distribution is changing in an exciting way," said Chinn.
New players
Emerging players in the market were discussed, with Hulu an up and coming option.
"Like Amazon, Hulu are seeing the value of theatrical – they are saying they can do the same thing [as Amazon]," said Braun.
"Right now, they are where Netflix was a few years ago, securing output deals with new partners and beginning to develop original content."
Facebook was cited as another example of a platform who could "shake things up", alongside YouTube Red and Fullscreen.
"Fullscreen is building its subscription figures very quickly, plus they are run by ex-media execs," explained Braun.
The AT&T-owned service offers original, scripted and unscripted series, as well as full-length 'Hollywood' television dramas and features for $5/month.
Though slow to build paying subscribers, Braun also cited YouTube Red as a potential competitor in the market. He said the company would grow its 1.5mill subscribers by investing in established directors.
Chinn suggested Apple could be the next big player… by buying Netflix.
"Apple could be the biggest guerrilla – they have deep pockets," said Chinn, who referenced their recent Tribeca acquisition Clive Dance – The Soundtrack of our Lives.
"They are dipping their toes into the space," said Braun. "They could easily, and dramatically, change the landscape. Let's see."