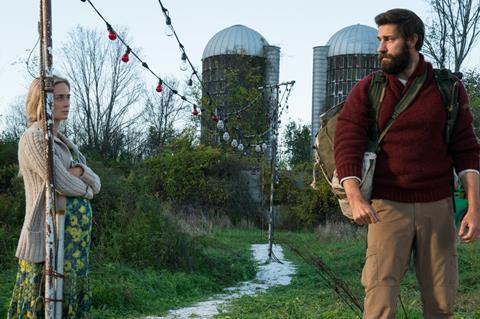 APRIL 16 UPDATE: Rampage ruled the world at the weekend as the Dwayne 'The Rock' Johnson action adventure rustled up $35.8m to usurp A Quiet Place, which crossed $100m on Sunday.
The $120m tentpole debuted via Warner Bros in 4,101 theatres and while early signs would suggest North America is not the place to recoup, international prospects appear far healthier.
The film about a scientist who must deal with giant mutant beasts run amok in Chicago generated $115.7m international and $151.5m worldwide.
Blumhouse Films' latest genre film, the supernatural thriller Truth Or Dare, debuted in third place via Universal on $18.7m from 3,029 sites.
Last weekend's champion A Quiet Place from Paramount fell 34.3% an one slot to number two and used a $32.9m session to boost the tally to an even $100m after 10 days.
Outside the top 10, Brad Anderson's war thriller Beirut starring Jon Hamm arrived at number 13 via Bleecker Street on $2.1m from 755 venues. Animation Sgt. Stubby: An American Hero debuted at number 16 via Fun Academy on $1.3m from 1,658.
SPC launched Chloe Zhao's western and 2017 Cannes Directors Fortnight selection The Rider at number 38 on $42,244 from three venues. Kino Lorber debuted the documentary Grace Jones: Bloodlight And Bami at number 36 on $56,1717 from three venues, while Lucrecia Martel's period drama Zama opened at number 46 on $26,123 in three sites through Strand Releasing.
Overall the top 12 generated $136.4m, down 7.9% on last weekend and down 17.6% against the comparable session in 2017 when Fate Of The Furious roared to number one on $98.8m.
This week's wide releases are: comedy I Feel Pretty via STX Entertainment; comedy Super Troopers 2 through Fox Searchlight; and the thriller Traffik through Lionsgate.
Confirmed top 10 North America April 13-15, 2018
Film (Dist) / Conf wkd gross / Conf total to date
1 (-) Rampage (Warner Bros) Warner Bros Pictures International $35.8m –
2 (1) A Quiet Place (Paramount) Paramount Pictures International $32.9m $100m
3 (-) Truth Or Dare (Universal) Universal Pictures International $18.7m –
4 (2) Ready Player One (Warner Bros) Warner Bros International $11.5m $114.9m
5 (3) Blockers (Universal) Universal Pictures International $10.8m $37.4m
6 (4) Black Panther (Buena Vista) Walt Disney Studios Motion Pictures International $5.8m $674.2m
7 (10) Isle Of Dogs (Fox Searchlight) Fox International $5m $18.9m
8 (6) I Can Only Imagine (Roadside Attractions) Mission Pictures International $4.1 $75.3m
9 (5) Tyler Perry's Acrimony (Lionsgate) Lionsgate International $3.7m $37.8m
10 (7) Chappaquiddick (Entertainment Studios) Sierra/Affinity $3.1m $11m