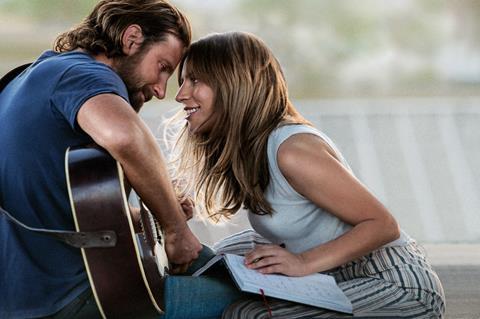 | | | | | |
| --- | --- | --- | --- | --- |
| Rank | Film / Distributor | Three-day gross (Oct 12-14) | Running gross | Week |
| 1 | A Star Is Born (Warner Bros) | £3.1m | £9.6m | 2 |
| 2 | Venom (Sony Pictures) | £3m | £13.7m | 2 |
| 3 | Johnny English Strikes Again (Universal) | £2.9m | £8.3m | 2 |
| 4 | First Man (Universal) | £2.4m | £2.4m | 1 |
| 5. | Smallfoot (Warner Bros) | £2.3m | £2.3m | 1 |
Today's GBP to USD conversion rate - 1.30
Warner Bros
A Star Is Born posted a sensational second weekend hold, repeating its £3.1m opening with a 0% drop. Including midweek takings and previews, the film has moved to £9.6m.
While the film has been boosted by strong word-of-mouth and critical reaction, one further explanation for that result is that the UK's third biggest multiplex chain, Vue Cinemas, didn't play the film in its opening weekend due to a disagreement over bookings terms. However, that dispute was resolved at the end of last week, and the film played in all 89 Vue sites this weekend. In total, the film played in 612 cinemas this weekend, in contrast with 537 in its opening session.
Feature animation Smallfoot tapped into the UK's strong family market for its debut, delivering a result of £2.3m from 556 sites. Featuring a voice cast including Channing Tatum, James Corden and Zendaya, the film tells the story of a yeti that is convinced that the elusive creatures known as "human" really do exist.
The film was produced by the Warner Animation Group, which is behind Storks (which also started with £2.3m in the UK, ending on £7.5m), The Lego Movie (£8m opening and £34.4m total gross), The Lego Batman Movie (£8m and £24.4m), and The Lego Ninjago Movie (£3.6m and £9.7m).
Smallfoot is an original property, so the Storks comparison makes sense and as such its opening is in line with expectations. The UK is currently a good market for family animations, and with the only real competition currently being The Incredibles 2 and Hotel Transylvania 3, both of which are reaching the back end of their runs, Smallfoot could yet have a long tail.
Crazy Rich Asians added £93,000 and is up to £5.6m, and The Nun is up to £11.3m after adding £85,000.
Sony Pictures
Venom added £3m in its second weekend, a drop of 46%. The film has now moved to £13.7m.
Hotel Transylvania 3 added £65,000 and is up to £19.4m.
Universal
Johnny English Strikes Again added a further £2.9m this weekend, a drop of 41% on its first session. Including midweeks takings, the film is up to £8.3m to date, and still has a fair way to travel to reach the totals of its predecessors (£19.7m for Johnny English and £20.7m for its sequel).
Damien Chazelle's Neil Armstrong biopic First Man, starring Ryan Gosling as the first man on the moon, opened to £2.4m from 590 locations this weekend, an average of £4,068.
Night School is up to £3.8m after posting a further £356,000, BlacKkKlansman is up to £6.4m and Mamma Mia! Here We Go Again is now on £65.4m.
Cinema Live
Event cinema release Cliff Richard Live: 60th Anniversary Tour kicked off with £1.1m in the UK this weekend.
Phoenix Productions
Clergy (Kier) set a record this weekend by posting the highest opening ever for a Polish-language production, grossing an impressive £1m from 239 sites.
20th Century Fox
Bad Times At The El Royale, Drew Goddard's mystery thriller about seven strangers meeting at a rundown hotel with a dark past and starring Chris Hemsworth and Dakota Johnson, got underway in the UK with a soft £491,474 from 394 sites, an average of £1,254.
Entertainment One
The House With A Clock In Its Walls is up to £7.4m after posting a further £394,795 this weekend.
Lionsgate
A Simple Favour added £152,287 this weekend and has moved to £4.9m so far, while Blindspotting is up to £57,790 after adding £5,943.
Disney
Incredibles 2 is up to £55.9m in the UK after posting a further £150,000 this weekend, while Christopher Robin has moved to £14.49m.
Picturehouse Entertainment
The Wife took a further £114,280 from 97 venues this weekend, pushing it to a healthy £1.2m to date.
Studiocanal
King Of Thieves added a further £53,007 this weekend and is up to £5.8m.
Park Circus
Mandy opened to £30,556 from eight sites this weekend.
The Big Lebowski is up to £84,989 after three weeks, while The Godfather is up to £44,777 after the same period.
Altitude
Black 47 grossed £28,918 from 72 sites for £1.6m to date across the UK and Ireland.
Eros International
Hindi drama Helicopter Eela opened to £25,904 from 38 locations, while Andhadhun is up to £99,321 after adding £5,657.
Vertigo Releasing
The Intent 2: The Come Up took a further £14,390 from 15 sites for a cume of £419,722, while The Miseducation Of Cameron Post is up to £355,430.
STXentertainment
Mile 22 is up to £1.6m in the UK, while American Animals is up to a lifetime of £723,667.
Curzon
Cold War is up to £1.1m in the UK, while Faces Places has moved to £112,562.