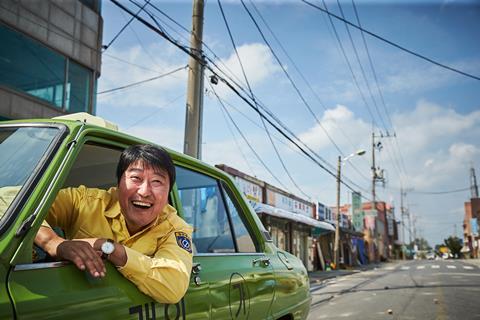 A Taxi Driver has crossed 10 million admissions in South Korea, becoming the only film to cross that important milestone so far this year. Directed by Jang Hoon, the film stars Song Kang-ho and Thomas Kretschmann.
Investor/distributor Showbox released the film on August 2 on 1,532 screens. It has grossed $71.8m to date at the local box office making it the highest-grossing film in Korea this year.
A re-imagining based on a true story, the film is about a Seoul taxi driver who helped a German journalist shoot and smuggle out footage of the May 1980 Gwangju Democratization Movement which ended in a massacre of civilians by then-coup-leader who later became president Chun Doo-hwan's troops.
The second-ranking film of the year so far is local detective action film Confidential Assignment, which clocked up 7.8 million admissions and $55.9m for CJ Entertainment after its January 18 release. It's followed by Spider-Man: Homecoming with 7.2 million admissions and $51.9m, which Sony released on July 5 in Korea.
As of today (August 21), A Taxi Driver is now Korea's all-time 15th ranking film with 10.35 million admissions, according to the Korean Film Council (KOFIC). It is flanked on the all-time hits list by Avengers: Age Of Ultron, which picked up 10.49 million admissions, and Interstellar, which had 10.3 million.
The film's release comes on the heels of another democratic movement in South Korea where ex-president Park Geun-hye was ousted from office this March following months of protests, on grounds including the blacklisting of artists.
As one of those on the blacklist, Song admitted in a May appearance on cable channel JTBC's Newsroom that he initially hesitated to take on the role of the cabbie in this film, which is about defying a media blackout to help expose an authoritarian dictatorship's wrongs, as Park's administration was likely to "dislike" it. But he changed his mind after reading the script and becoming impassioned to share the story with many people.
Among the more than 10 million to view the film, newly elected president Moon Jae-in recently saw it with Edeltraut Brahmstaedt, widow of Jurgen Hinzpeter – the real-life correspondent for German public broadcasting company ARD-NDR upon whom Kretschmann's character is based