Eddie Redmayne stars in animated feature from the company behind Wallace And Gromit.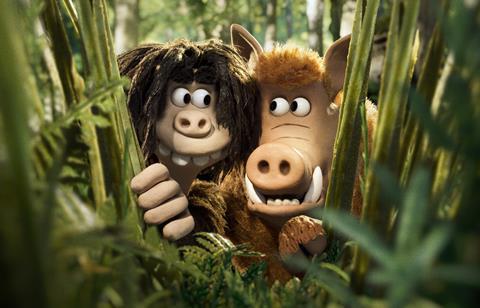 Timothy Spall and Richard Ayoade have joined the voice cast of Aardman Animation's forthcoming feature Early Man.
The company has also released a teaser trailer for the film, which you can watch below or here on mobile.
Eddie Redmayne leads the cast of the prehistoric adventure, which also boasts Tom Hiddleston and Maisie Williams.
Further voice talent now on the project include Johnny Vegas, Selina Griffiths, Mark Williams, Gina Yashere, Simon Greenall, and Richard Webber.
Production is currently underway at Aardman's studios in Bristol on the feature, an animated comedy about a plucky caveman [Redmayne] who unites his tribe against the mighty Bronze Age in a battle to beat them at their own game.
Studiocanal is co-financing and will distribute in its own territories - UK, France, Germany, Australia and New Zealand - and will sell worldwide.
The BFI is supporting the development and production of Early Man with National Lottery funding.
Early Man is scheduled to bow January 26 2018 in the UK.