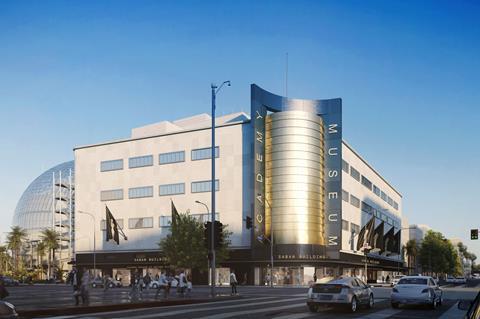 Cheryl and Haim Saban have donated $50m to the Academy Museum of Motion Pictures – the largest in the project's campaign as the museum committee targets a 2019 launch in Los Angeles' mid-Wilshire corridor.
The gift means the museum campaign committee has raised $288m, or a fraction below 75% of the $388m target. The May Company Building will now be named the Saban Building.
The committee also announced on Wednesday that NBCUniversal vice-chairman Ron Meyer will head the new board of trustees at the museum, which will explore the history and art of film and occupy the 1939 former May Company building in the 'Miracle Mile' neighbourhood.
Kerry Brougher, director of the Academy Museum, said, "We could not be happier with the momentum the museum is experiencing on all fronts – from fundraising and governance to content and construction. We are thankful to Cheryl and Haim Saban and to Ron Meyer for their vital support and leadership in bringing the Academy Museum to the world."
Bob Iger, the Walt Disney Company chairman and CEO and chair of the museum campaign committee, said, "We are deeply grateful to Cheryl and Haim for understanding the need for a superb museum of film in the moviemaking capital of the world. With their tremendous commitment, they set a magnificent example for others and bring our dream closer to reality."
Saban Capital Group chairman Haim Saban and Cheryl Saban said, "We are delighted to further our commitment to Los Angeles with this gift to the Academy Museum of Motion Pictures. This new home for film will offer incredible experiences for visitors from our community and around the world to enjoy the rich history of our industry. We feel honoured to contribute to its creation and thrilled to have our name associated with this historic building and visionary project."
Meyer added, "I am proud, and humbled, to chair and build the Academy Museum's new board of trustees. The museum has already made great strides in raising funds and developing plans for what will become an essential cultural destination for Los Angeles. It is an honour to be part of such a significant project."
Academy president John Bailey said, "Thanks to the vision of the Academy's board of governors, our goal for a museum celebrating the art and sciences of the movies is around the corner. We are proud of our collaborative achievements and believe Ron Meyer, and his board of trustees, will be excellent stewards for our project moving forward."