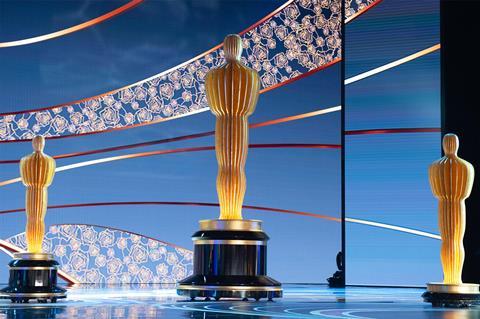 The Academy on Thursday (January 28) published a list of 93 films eligible for international feature film Oscar category.
Algeria's Heliopolis, about the brutal suppression by French colonial authorities of an uprising in 1945, is omitted from the list. Screen understands the national selection committee withdrew the submission.
There were also a record number of documentary submissions – 238 compared to the previous high of 170 – in light of amended eligibility rules this season due to the pandemic, and a reduced field of 27 animation contenders.
The shortlists will be announced on February 9. The 93rd annual Academy Awards are scheduled to take place on April 25.
The international feature films appear below.
Albania Open Door
Argentina The Sleepwalkers
Armenia Songs Of Solomon
Austria, What We Wanted
Bangladesh, Sincerely Yours, Dhaka
Belgium, Working Girls
Bolivia, Chaco
Bosnia and Herzegovina, Quo Vadis, Aida?
Brazil, Babenco -Tell Me When I Die
Bulgaria, The Father
Cambodia, Fathers
Cameroon, The Fisherman's Diary
Canada, 14 Days, 12 Nights
Chile, The Mole Agent
China, Leap
Colombia, El Olvido Que Seremos (Memories Of My Father)
Costa Rica, Land Of Ashes
Croatia, Extracurricular
Cuba, Buscando A Casal
Czech Republic, Charlatan
Denmark, Another Round
Dominican Republic, A State Of Madness
Ecuador, Emptiness
Egypt, When We're Born
Estonia, The Last Ones
Finland, Tov
France, Two Of Us
Georgia, Beginning
Germany, And Tomorrow The Entire World
Greece, Apples
Guatemala, La Llorona
Honduras, Days Of Light
Hong Kong, Better Days
Hungary, Preparations to Be Together For An Unknown Period Of Time
Iceland, Agnes Joy
India, Jallikattu
Indonesia, Impetigore
Iran, Sun Children
Ireland, Arracht
Israel, Asia
Italy, Notturno
Ivory Coast, Night Of The Kings
Japan, True Mothers
Jordan, 200 Meters
Kazakhstan, The Crying Steppe
Kenya, The Letter
Kosovo, Exile
Kyrgyzstan, Running To The Sky
Latvia, Blizzard of Souls
Lebanon, Broken Keys
Lesotho, This Is Not A Burial, It's A Resurrection
Lithuania, Nova Lituania
Luxembourg, River Tales
Malaysia, Roh
Mexico, I'm No Longer Here
Mongolia, Veins Of The World
Montenegro, Breasts
Morocco, The Unknown Saint
Netherlands, Buladó
Nigeria, The Milkmaid
North Macedonia, Willow
Norway, Hope
Pakistan, Circus of Life
Palestine, Gaza Mon Amour
Panama, Operation Just Cause
Paraguay, Killing The Dead
Peru, Song Without A Name
Philippines, Mindanao
Poland, Never Gonna Snow Again
Portugal, Vitalina Varela
Romania, Collective
Russia, Dear Comrades!
Saudi Arabia, Scales
Senegal, Nafi's Father
Serbia, Dara Of Jasenovac
Singapore, Wet Season
Slovakia, The Auschwitz Report
Slovenia, Stories From The Chestnut Woods
South Africa, Toorbos
South Korea, The Man Standing Next
Spain, The Endless Trench
Sudan, You Will Die At Twenty
Suriname, Wiren
Sweden, Charter
Switzerland, My Little Sister
Taiwan, A Sun
Thailand, Happy Old Year
Tunisia, The Man Who Sold His Skin
Turkey, Miracle In Cell No. 7
Ukraine, Atlantis
Uruguay, Aleli
Venezuela, Once upon A Time In Venezuela
Vietnam, Dreamy Eyes.
Of the 238 eligible documentaries, submissions include: Time, Crip Camp, John Lewis: Good Trouble, MLK/FBI, The Mole Agent, Collective, Boys State, Dick Johnson Is Dead, The Reason I Jump, 76 Days, Gunda, and City Hall.
The animation list appears below:
Accidental Luxuriance Of The Translucent Watery Rebus
Bombay Rose
Calamity
The Croods: A New Age
Demon Slayer – Kimetsu No Yaiba-The Movie: Mugen Train
Dreambuilders
Earwig And The Witch
Kill It And Leave This Town
Lupin III: The First
Mosley
My Favorite War
Nos Ili Zagovor Ne Takikh
No.7 Cherry Lane
On-Gaku: Our Sound
Onward
Over The Moon
Red Shoes And The Seven Dwarfs
Ride Your Wave
Scoob!
A Shaun The Sheep Movie: Farmageddon
Soul
The SpongeBob Movie: Sponge On The Run
Terra Willy
Trolls World Tour
A Whisker Away
The Willoughbys
Wolfwalkers.