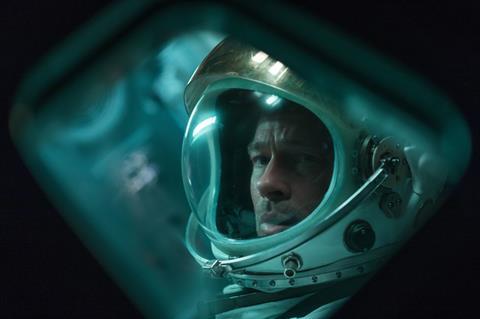 After topping the international and global box office charts last weekend, Fox's Ad Astra opens in three new major markets this weekend.
Meanwhile Focus Features' Downton Abbey arrives in France and Universal's Abominable begins its international roll out in earnest, opening in three major markets and more than 20 smaller territories.
Distributed through Disney, New Regency and 20th Century Fox's sci-fi epic Ad Astra has reached $34.4m at the international box office so far and should add significant amounts to that total with openings in Italy, Russia and Brazil on Thursday (September 26).
Distributed by Universal Pictures International, Downton Abbey was a strong second in last weekend's international table. With $37.9m in hand so far, the period drama opened in France on Wednesday (25).
Abominable, DreamWorks Animation's animated adventure comedy, has so far taken $1.7m after its launch last weekend in Australia, New Zealand and Uruguay. But it will get a first real chance to show its strength with its launches this weekend in Brazil, Germany (both on Thursday), Mexico (Friday) and around 20 other markets, as well as North America.
With a voice cast including Chloe Bennet, Albert Tsai, Eddie Izzard and Sarah Paulson, the Asia-set story about three teens and a Yeti, is the first feature from DreamWorks Animation's Chinese joint venture Pearl Studio. Pearl will distribute in China and Universal throughout the rest of the world.
DreamWorks' last non-sequel animated release, Captain Underpants: The First Epic Movie, ended up grossing $2.7m in Brazil, $970,000 in Germany and $2.5m in Mexico, contributing to a worldwide take of $125.5m.
Universal also opened Yesterday, with $69.7m internationally to date, in Italy on Thursday and Don't Let Go in the UK on Friday. The studio's Hobbs & Shaw has now reach $581m internationally and Good Boys $22.2m.
Sony's Once Upon A Time…In Hollywood opened in South Korea on Wednesday, having amassed $211.2m so far ($208.6m from Sony Pictures Releasing International markets and $2.6m from Bona Film markets). Director Quentin Tarantino's previous film, The Hateful Eight, ended up grossing $807,000 in South Korea three-and-a-half years ago.
Recent box office leader It: Chapter Two, from Warner Bros Pictures International, climbed to an international tally of $212.1m this week, while the studio's Annabelle 3 reached $152.8m, The Kitchen $3.4m and Blinded By The Light $1.4m (for Warner territories only).
Warner's The Goldfinch, with $1.9m grossed internationally so far, opened in Australia on Thursday and reaches the UK and Mexico on Friday.
Millennium Media reported an international tally of $10.7m to date for Rambo: Last Blood, which opened in France on Wednesday, hits Spain on Friday and reaches Italy on Sunday (29).
The company's Angel Has Fallen has now reached $55.8m in international markets.
STX reported an international total to date for Hustlers of $11.57m.