Panelists were attending Screen's World of Locations breakfast at AFM.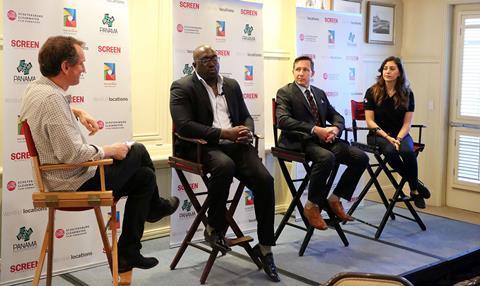 Film commissioners from Panama, Namibia and St Petersburg/Clearwater in Florida told an audience of producers and festival programmers of their desire to boost their industries at Screen International's World of Locations breakfast and panel here on Friday.
"Our industry is growing and we have so many stories to tell," said Maria Antonia Vergara of Panama Film Commission, which offers a 15% cashback incentive that could rise to 25% within a year once the measure is approved by lawmakers.
Narcotics drama Escobar: Paradise Lost starring Benicio del Toro was the first film to apply for the incentive. The France-Belgium-Spain co-production invested $5m into the local economy and qualified for the incentive because it met the requirements of a $3m minimum spend. That threshold could change to make more productions eligible. This will be of use to local film-makers and meets the mandate of the commission, which was set up to attract foreign investment and support the local creative base.
The commission allocates an annual $2.2m for local production through its Fondo Cine Award and supports International Film Festival Panama. With a talent base on the rise, six local films were selected in this year's line-up.
Yet the territory has demonstrated its ability to host larger shoots. James Bond film Quantum Of Solace filmed there, as did Contraband, Hands Of Stone and Dwayne Johnson reality show Hero. Coming up is a major Hollywood feature that Vergara was not at liberty to reveal.
A young nation
Obed Emvula of Namibia Film Commission told attendees the African country hosted an 11-month shoot for Mad Max: Fury Road after the production left Australia due to heavy rains in the desert. It injected around $38.5m (n$525m) into the local economy.
"We want to share with you not just the location but the story of who we are," said Emvula. "We're a young nation." Namibia became a democracy in 1990 and representatives such as Emvula believe it can become one of the most compelling destinations on the planet.
Like Panama, there is a strong emphasis on nurturing local talent; in fact, 60% of the commission's budget goes to meet these aims. "We want to make sure they develop the skills and get exposure around the world."
The country boasts natural beauty and a strong road infrastructure. The commission is working with the banking sector to better understand the content creation business. "We take film very seriously. Local business involvement is very important," said Emvula. "We're working on an incentives programme at the moment to increase the appetite for international producers to film here. We're working on an additional 17% incentive that's likely to pass next year."
Local resource
While the film-making credentials of Florida need no explanation, St Petersburg/Clearwater film commissioner Tony Armer has to keep his area competitive against high-profile locales such as Miami and Orlando. Although there is no statewide incentive, the county offers a 10% incentive and combines with the 10% that nearby Tampa offers for a 20% incentive on a shoot.
"It's a cash incentive and it can be done in a short time," said Armer. "You can have it ready for post-production if you can get the deliverables together in time."
The county hosted feature productions such as Magic Mike, Spring Breakers and two Dolphin Tale films. Each film in the family franchise cost around $37m to produce; in both cases local spend reached $20m and the films qualified for a $5m incentive. A $2m local spend on Miss Peregrine's Home For Peculiar Children qualified for a $200,000 incentive.
Armer said he expected the state-wide incentive, which applied to Dwayne Johnson TV show Ballers and Dolphin Tale, to be reinstated before long.
"It will happen, but in the meantime we're going to get aggressive with the things we're pushing." That means features, TV shows, web series or commercials as Armer works to raise further the profile of the area.