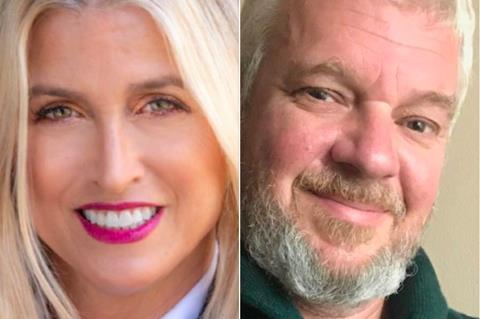 Matthew Thompson and Catherine Girard-Cobb have been appointed to the new roles of co-managing directors of AFM ahead of the November 1-6 in-person market.
The executives report to Independent Film & Television Alliance (IFTA) president and CEO Jean Prewitt and will work with IFTA VP's Jennifer Garnick and Robin Burt to develop and support the overall vision, operations and production of AFM.
Thompson brings 25 years of event management and production experience and will oversee the AFM attendee segment and is responsible for registration, hotels, transportation, conference production, and the networking platform, MyAFM. He previously served as an event director and consultant for clients including Adweek, the Tribeca Film Festival, Nespresso, and the Skirball Cultural Center.
Girard-Cobb will manage the AFM exhibitor experience, including registration, film screenings, and furniture & equipment and is a 20-year event veteran. She has managed large-scale trade shows and live and virtual events most of her career, most recently for London-based Clarion Events, Quartz North America, and Bobit Business Media's 20 annual market-specific events.
"Matthew and Catherine bring a wealth of combined event experience in line with the AFM," said Prewitt. "Their skills and insights complement our established and talented team and strengthen our ability to meet the changing needs of our industry as we look to our in-person return this year and the future."
Jonathan Wolf stepped down as AFM managing director over the summer following 24 years in the role.
At this stage IFTA said 225 companies have registered to attend the market, among them FilmNation, A24, Altitude Film Entertainment, Voltage Pictures, Millennium Media, CJ ENM, Contents Panda, Film Mode, Unifrance, Hanway Films, TrustNordisk, WME Independent, Lionsgate, and XYZ Films.
"The early commitments and excitement by companies around the world to be in Santa Monica, along with the projects coming together, say that the industry is back to business," said Prewitt. "While business models have clearly shifted, independent film will forever be built on discovery, collaboration, innovation and serendipity, making the need for annual face-to-face gatherings like AFM essential to our industry."
AFM Sessions' opening Finance Conference on November 2 is 'The Risk Takers' and will feature Creative Wealth Media founder and CEO Jason Cloth, FilmNation COO Milan Popelka, Rebelle Media founder Laura Lewis, and Thunder Road Pictures founder Basil Iwanyk
The AFM Sessions will feature more than 100 speakers across two stages inside the Loews Beach Hotel in Santa Monica.