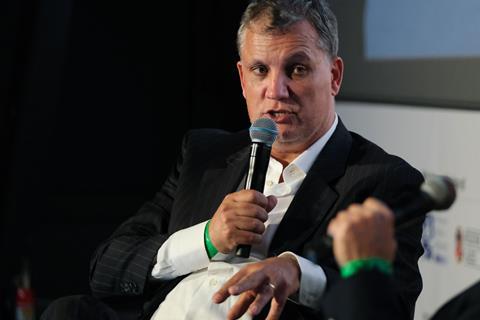 AGC Studios CEO and founder Stuart Ford discussed how his LA-based production, financing and sales powerhouse is riding the streamer-fuelled, global film and TV production boom in an in-conversation event at the MIA film and TV market in Rome on Saturday (October 15).
It is Ford's first trip to the burgeoning industry event set against the backdrop of the 17th-century Barberini Palace in the heart of the Italian capital. He revealed the key draw had been the market's TV component.
"Our television division is particularly active in the international co-production space. MIA seemed like a useful opportunity for us to get in a room with a number of European companies, whether they be producers or broadcasters to explore opportunities to work together and build partnerships," said Ford.
AGC Television, which is headed by Lourdes Diaz, announced new espionage thriller series Gray going into MIA and is currently wrapping production on several shows including Sebastian Guttierez's Leopard Skin, Gabriel Garcia Máquez's News Of A Kidnapping for Amazon and Tinder Swindler for Netflix.
Ford said television had been at the heart of the business plan for AGC Studios "from the get-go".
"When myself and my partners were sitting down to write the business plan for AGC, late 2017, early 2018, it was perfectly apparent that within the broader industry, television was going through a boom period.
"If the intention was for us to build a 360-degree content company, then a significant television pipeline, preferably of a wide variety of genres and formats, was absolutely essential. TV was intended to be roughly 50% of the business and we invested heavily in television development from day one."
"Lourdes and her team have been beavering away for three years and 2021 is when a lot of that developmental activity started to bear fruit because we've sort of exploded into life from a producing perspective," he added.
Looking at the current production boom in Europe, Ford suggested it was a "golden era" for local producers.
"The streamers are still making or acquiring a significant amount of US content, that's still the most popular form of entertainment in the world, but [they] are also putting tremendous focus on generating local-language product to help fuel subscriptions in strategically important territories, whether that be in Western Europe, Latin America, India or the Middle East," he said.
"My experience here in Italy, and in any number of other territories, is that it's something of a golden period for local producers. The more traditional outlets and financing sources – the free and pay-TV broadcasters, or local film distribution companies – they still need a pipeline of extensively premium content to try to keep up. There are more buyers and more sources of production capital than ever."
Holding onto IP
Ford acknowledged that the rise of the streamers and their voracious appetite for taking all rights on the content they board could be challenging but also emphasised there was nothing to be ashamed of about working as "a producer for hire".
"It boils down to who do you want to be. For a production company that sees itself purely as a content generator, that hamster wheel of making film and television for the streamers is a lucrative hamster wheel to be on, that seems to be turning quicker and quicker.
"However, if your priority – as is the case with AGC and has always been the case with me, because I'm an entrepreneur as much as I'm a producer or a financier – is to build an entity of corporate substance, you need more than revenue generation from fees, you need assets. In other words, you need to own either all or at least some portion of what you're making."
AGC's strategy, he added, was to have a high volume of output but to retain at least 50% of everything it produces, by equity financing or co-financing the features and series it works on. AGC was also open to making content directly for streamers, he said, citing News Of A Kidnapping for Amazon and romantic comedy The Perfect Find for Netflix.
Ford also said pre-sales still had a role to play in the way that AGC raises finance for some of its projects, even if this model is under pressure.
"The pre-sale model does still exist, it certainly exists in film. However, the sphere of movies where you can effectively use it as a financing strategy has definitely shrunk. We live in a time where small independent dramas are not significantly pre-sellable. Action programmers that were once the staple of the international sales business are not really what the buyers want, and it's hard to pre-sell those effectively," he said.
"Bigger, truly premium titles that are undeniably theatrical movies, preferably for a wide release, are highly pre-sellable. For example, the Roland Emmerich titles we've done (Moonfall, Midway) between the two of them have done hundreds of millions of dollars of pre-sales. It's as robust a business it's been at any time."