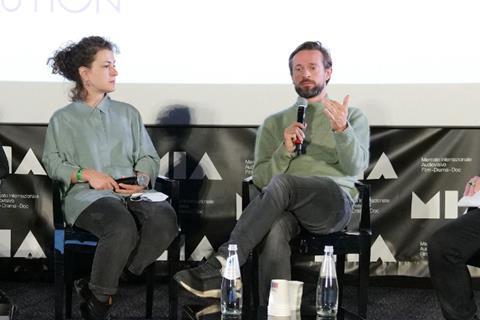 Staying flexible and agile is the key to connecting independent films with audiences in a market changed forever by the Covid-19 pandemic, distributors and sales agents told a Europa Distribution panel at the MIA film and TV market in Rome on Saturday (October 15).
Thania Dimitrakopoulou, head of sales at The Match Factory, said she doubted that the traditional model of releasing independent features, predicated mainly on a windowed approach beginning with a theatrical launch, would ever return in the same way.
"Something has shifted so the recovery is not taking us back to where we were before, it's moving into something else right now," she said. "During this time, people have got very familiar with using platforms, even older ages which were traditionally the audience for arthouse and independent film."
Giving a snapshot of the current situation from a sales agent's point of view, Dimitrakopoulou said many of her clients were grappling with how to clear a backlog of titles.
"What comes from the distributors to us as sales agents is first, that there are so many films, and then how to programme them and put them in line to get them out there. The cinemas have been closed for so long. The distributors had films that they couldn't release on time. In the meantime, they kept on buying new films."
She said there were a variety of approaches, with some distributors holding out to do theatrical releases, especially for big investments, while others had gone down the digital distribution route from early on in the pandemic, then continued to experiment with windows and different platforms when cinemas reopened.
"Film releases need to be tailor-made at this point. Some films need bigger releases than others. It also depends on where the distributors are because regulations in each country are different," she added.
Olivier van den Broeck at Benelux distributor The Searchers, which has films including The United States vs. Billie Holiday, Copshop, Pig and Spencer on its upcoming slate, agreed that the market was unlikely to return to the pre-Covid-19 status quo, and suggested the old model of a three- to four-month theatrical window was under increasing pressure.
"The rigidity of the cinemas and their insistence on old-school windows has been turned upside down. The power shift is clearly there. For decades, the cinemas weren't open to revisiting their windows and a couple of major studios used the opportunity of the Covid situation to push through their agenda," he said.
"We're seeing major cinema chains being, I'm not saying blackmailed, but no longer in the position of strength… against their will, [they're] having to adapt to a situation in which nothing is certain."
He noted that while audiences were returning to cinemas, box office success has been limited thus far to a handful of tentpole productions such as Dune and No Time To Die and unexpected smaller breakout titles.
"The mid-range commercial titles, which used to be the bread and butter of the independent industry, seem to be suffering theatrically and one wonders whether they present enough of a go-to event to get people out of their houses."
He suggested, however, that there could be increased opportunities for these films on traditional broadcasters and national and regional platforms due to the fact that global platforms such as Disney+ and HBO Max were keeping titles they once licensed for their new European services.
Talking specifically about The Searchers, van den Broeck said the company had licensed a number of its titles to platforms as a result of the pandemic. He noted, however, that it had experimented with a successful hybrid release with The Green Knight, with a 10-day theatrical release in Belgium ahead of its launch on Amazon Prime Video on August 21.
Eve Gabereau described how her company Modern Films had launched a virtual distribution platform, Modern On Demand, in cooperation with theatres in the early days of the pandemic and continues to take an innovative approach now that cinemas are open again in the UK.
"The UK market is quite flexible and we have a lot of freedom to experiment with media chronology and windows and, being in the independent sector, we're not reliant on multiplexes. We have a background of 10 years of day-and-date and digital releasing with theatrical so [Modern On Demand] was a natural extension to what we were doing," she said.
Launching in March 2020 with The Perfect Candidate, Modern On Demand enabled the customer to select an independent cinema at the point of purchase, which would then receive an undisclosed percentage of the ticket price.
"I don't know what the future of that is and in fact, we're working now as cinemas reopen to do this hybrid model where you can buy a scheduled ticket for a time and place, or you can buy it from the cinema and watch it however and whenever you want. How that will build in terms of marketing to audiences, we're not sure yet," she said.
In terms of getting audiences back into cinemas for independent features, she suggested "event-ising" screenings with a talk or subject angle was also proving successful in drawing audiences.
"There has to be a reason to go to the cinema. We're seeing that when we have events or talks, or speak to particular niches or interest groups, they will go out," she said.
Gabereau noted that the company was gearing up for a more traditional theatrical release of Japanese director Ryusuke Hamaguchi's Drive My Car on November 19 in the UK, which she hopes will be buoyed by strong reviews out of Cannes and a strong UK following for writer Haruki Murakami on whose book the film is based.
"We're looking at 50 to 60 prints for the opening and we'll try to run it into December as well. We are giving it a theatrical window, but its shortened – 31 days – then we'll have a PVoD virtual cinema window for a couple of weeks, and then it will go on the mainstream digital players," she said.
Looking to the coming few months, van den Broeck said he expected the market to continue to evolve rapidly and suggested distributors would need to keep adjusting their approach on a film by film basis.
"The change is ongoing and it might not just be a phase but a permanent state of the industry," he said. "The best independent companies will be the ones who can seize opportunities quickly and shift drastically from one release to another, from one week to another. I think the conclusion might be that every type of release and every single film will demand a different strategy.