Projects from directors Bodo Kox and Adrian Panek are also being introduced.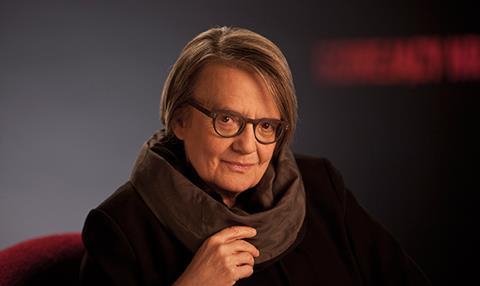 Projects by Agnieszka Holland [pictured], Bodo Kox and Adrian Panek are among the films being presented at this week's Polish Days during the T Mobile New Horizons International Film Festival in Wroclaw (July 21-31).
Holland's dark comedy-thriller Game Count, which she bills as "No Country For Old Women¨, is one of nine titles in the Works in Progress showcase.
The $3.9m (€3.5m) co-production between Krzysztof Zanussi's TOR Film Studio and Germany's Heimatfilm will be distributed internationally by Beta Cinema.
Polish Days' international audience of sales agents, distributors and festival programmers were also treated to the first footage from Kasia Adamik's thriller Amok and Dorota Kobiela's animated drama Loving Vincent as well as from two films which will be featured in Locarno's First Look works in progress sidebar next week: Maciej Pieprzyca's psychological thriller I'm A Killer (which will have its world premiere in the Polish Film Festival in Gdynia in September) and Joanna Kos-Krauze and her late husband Krzysztof's drama Birds Are Singing In Kigali.
Pitchings forum
During the pitching forum for nine new fiction projects, Iza Igel and Roman Jarosz of the production-distribution company Alter Ego Pictures revealed that Bodo Kox's sci-fi romance The Man With The Magic Box will have Italy's Vargo Films and the UK's Film and Music Entertainment (F&ME) on board as co-producers with ORKA post-production studios handling the visual effects.
Principal photography on the $1.3m (€1.2m) film is set to begin on October 18 this year, and domestic distribution is already in place with Kino Swiat.
Lava Films' Mariusz Wlodarski, a Screen Future Leader in Cannes last year, presented Eloe, the feature debut by Piotr Zlotorowicz, which has been developed at the Midpoint programme and the Nipkow Programme residency and will be co-produced with Berlin-based Port au Prince Pictures.
Another debut from Lava Films, Aga Woszczynska's Italian-set Fortnight, was pitched by Wlodarski's colleague Agnieszka Wasiak. The $1.4m (€1.3m) drama is currently being developed at the EAVE producers workshop and builds on the characters from her short Fragments which premiered in Cannes' Directors Fortnight in 2014.
The line-up of projects also included Adrian Panek's second feature, the thriller Werewolf centring on a group of killer dogs who surround an orphanage which was created for children recently liberated from a concentration camp.
The $1.1m (€1m) production by Warsaw-based Balapolis - which was at Venice last year with Baby Bump - has already attracted Dutch producer Jan ¨Mr Horror¨ Doense's House of Netherhorror (The Pool) as a co-producer.
Meanwhile, Maria Blicharska of Paris-based Donten & Lacroix Films showed a teaser for the company's first animated feature of Kamila Kubiak and Olivier Patté's Comrade Stalin Saved My Life.
The $2m (€1.8m) co-production with France's BLICK Productions and Germany's Belle Epoque Films has also been selected for the Alliance for Development initiative to be held in Locarno next weekend.
Happy end for Aftermath case against Polish Film Institute
Warsaw's Court of Appeal has dismissed all charges levelled by the Polish Film Institute (PFI) against the Polish production outfit Apple Film for alleged breach of contract of co-financing Władysław Pasikowski's film Aftermath.
Speakimg to Screen ahead of this week's Polish Days, Apple Film's Dariusz Jablonski said that the Court's judgement had also concluded that it was ¨clearly unjustified¨ for the PFI to have prevented him from applying for co-financing of his film projects for almost 4 years, as was the PFI's cancellation of the co-financing granted to him for several films which were ready to be made.
Earlier this year, the Regional Court in Warsaw had decided that the former director of PFI, Agnieszka Odorowicz, had infringed upon Jablonski's personal interests "by spreading untrue or misleading information and allegations regarding the settlement of the subsidy for the Aftermath production."
Jablonski observed that the dispute with the PFI had been ¨unfortunate, unnecessary and harmful for the whole Polish film industry and culture.¨
Pasikowski's drama had centred on a peaceful Polish village harbouring a dark secret: the collective murder by the inhabitants of their Jewish origin neighbours during the Second World War.