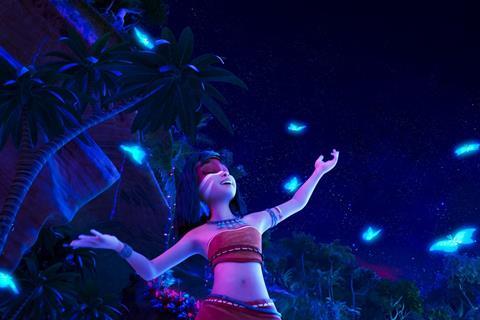 As Peruvian-Dutch animation Ainbo crosses $10m at the international box office sales agent Cinema Management Group (CMG) has announced brisk business at AFM on Peruvian partner Tunche's follow-up feature Kayara.
Despite the challenges of Covid restrictions and cinema-going protocols around the world Ainbo: Spirit Of The Amazon reached the box office benchmark on the back of strong performances in Australia, New Zealand, Switzerland, Poland, Mexico, and the rest of Latin America.
The animation about a young woman who fights to protect her Amazon rainforest homeland threatened by deforestation and illegal mining has grossed more than $2.25m in France through Le Pacte, around $1.75m in Australia and New Zealand through Rialto Distribution, over $1.5m in Netherlands via WW Entertainment and more than $500,000 in Poland via Kino Swiat.
Ainbo kicked off its theatrical run with number four debuts in Vietnam (Blue Lantern) and Ukraine (Monumental Pictures) and opened in fourth place in Singapore (Shaw Entertainment), Switzerland (Praesens) and Iceland (Sena) and second place across Central America (CDC).
Coming up are releases in Italy via Bim on November 18 – together with green organisations Fridays For Future Italy, Laga Ambiente and Green Me to mark National Arbor Day – as well as Spain (Flins y Piniculas), Portugal (Cinemundo) and South Korea (First Run). It will open in Peru in late 2021/early 2022 through New Century Warner Brothers.
Meanwhile CMG head Edward Noeltner has reported a strong response at AFM to Tunche Film's upcoming animation Kayara, another female empowerment story which is scheduled to begin production in early 2022.
Rights have gone to Le Pacte for French-speaking Europe, Muse for Taiwan, Singapore and Malaysia, WW Entertainment for Benelux, Praesens for Switzerland, Films4You in Portugal, Bir Films for Turkey, Bohemia for Czech and Slovak Republics, Five Star Pictures for Israel, Front Row for the Middle East, Falcon for Indonesia, Mongrel Film Distribution for Mongolia and CDC for Latin America.
Kayara follows a pioneering Incan messenger or Chasqui captured by Conquistadors who must decide whether to protect her land or reveal the location of the secret Golden City.