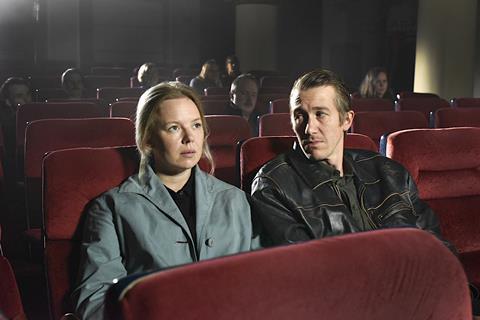 Mubi has acquired Aki Kaurismäki's Cannes competition film Fallen Leaves for North America, the UK, Ireland, Latin America and Turkey.
The global distributor and streamer plans a theatrical release for the Finnish-languge tragicomedy, which had its world premiere on Monday (May 22) in the Cannes official competition.
The film tells the story of two lonely people who meet by chance in the Helsinki night and try to find the first and ultimate love of their lives while dealing with the man's alcoholism, lost phone numbers and other romantic complications.
Written and directed by Kaurismaki, Fallen Leaves is the fourth part of the Finnish filmmaker's working-class trilogy, which also includes Shadows in Paradise, Ariel and The Match Factory Girl.
Kaurismaki previously won the Grand Prix and Prize of the Ecumenical Jury at Cannes in 2002 for The Man Without A Past, which went on to be nominated for the 2003 best international film Oscar.
Fallen Leaves was produced by Sputnik Oy and Bufo and co-produced by Pandora Film. It stars Alma Pöysti, Jussi Vatanen, Janne Hyytiäinen and Nuppu Koivu and was made with the support of the Finnish Film Foundation, Yle, the Finnish Broadcasting Company, ZDF/ARTE, ARTE G.E.I.E, Filmförderungsanstalt and Film-und Medienstiftung NRW.
The Match Factory is handling international sales.